Coburg
Christian Engelhart to line up in a Porsche with SSR Performance in the ADAC GT Masters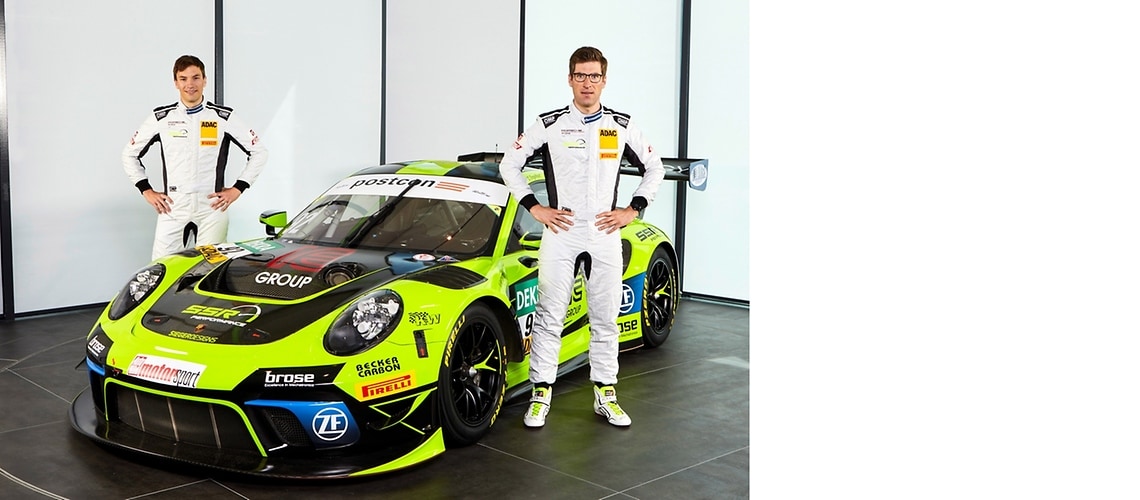 Coburg, 04-26-2020
2020 will be a year where Christian Engelhart tackles a new challenge: Last season's runner-up will line up in the ADAC GT Masters with his new team, SSR Performance. Christian will be behind the wheel of a Porsche 911 GT3 R and aim to replicate his successes from past years.
A new era has begun: Ten years after his first victory in a Porsche, Christian Engelhart will be back in the cockpit of the sports car from Weissach in the upcoming season – with a new team and teammates. Christian has won 21 races in a Porsche in his career so far and wants to add to his tally. To achieve that goal, a "truly Bavarian team" has been assembled in the shape of SSR and his new teammate Michael Ammermüller – one that has high ambitions in the ADAC GT Masters.
"Our goal is very clear: We want to be up at the top of the podium. We've a new, but first-class team and I'm grateful to be part of it. I can already say that, together with the entire SSR team and Michael, we've embarked on a highly professional project where successful motor racing has top priority – and where we'll have fun, too."
Highly professional team
Christian's new team, SSR Performance, is committed, highly professional and passionate, whether that be in the field of top-class sport or organizing track days. SSR Performance also provides a competence and service center in Munich featuring 10,000 square meters of usable floor area, five levels, a large number of car lifts, an all-wheel drive dynamometer, a showroom and a fully automatic nitrogen-filled storage space for exclusive cars.
"Those are unrivaled conditions, without a doubt. It was an impressive experience for me to see this brand-new environment. Now that we've gelled to begin with, you can see that every team member in every field is highly motivated to achieve something new and, above all, reap success with SSR and us drivers."
Christian's return to a Porsche after four very successful years with Lamborghini is a highly important and emotional move for the pilot from Starnberg. "Racing for Porsche in the cup was a very important step for me in professional motor racing. Then there is the legendary aura of the Porsche brand and its hugely successful history. It really fills me with pride that I'll now be part of this setup in one of the world's major GT series and have the chance to win races for this special brand."
Tough conditions to prepare for the season
Christian's objective now is to prepare for the new season as best possible so as to be in contention for a podium placement from the very first race. The Porsche pilot from the SSR Performance outfit is therefore keeping fit with an intensive sports program and is also lining up in the virtual Porsche Mobil 1 Supercup.
"Of course, the past weeks have been very difficult and the situation still isn't easy for everyone, not only in motor racing. But we hope the season will start soon and are trying to use the extra time to prepare really well. Looking ahead to the season, I'm personally delighted that my long-standing partners are still on board, despite the very demanding situation at the moment, and we'll be tackling this new challenge together. I'm extremely grateful to them for that – such support is far from commonplace. So I'm hoping for a strong season with maximum success with my new and powerful team and setup – and ideally would like to reward everyone involved for their trust in me by capturing the championship title."
Anticipated calendar in the ADAC GT Masters 2020
August 1–2, 2020 Most (CZ) or Lausitzring
August 15–16, 2020 Nürburgring
August 22–23, 2020 Zandvoort (NL)
September 19–20, 2020 Hockenheim
October 3–4, 2020 Sachsenring
October 17–18, 2020 Red Bull Ring (A)
October 24–25, 2020 Oschersleben