Elchingen
Coburg loses in Elchingen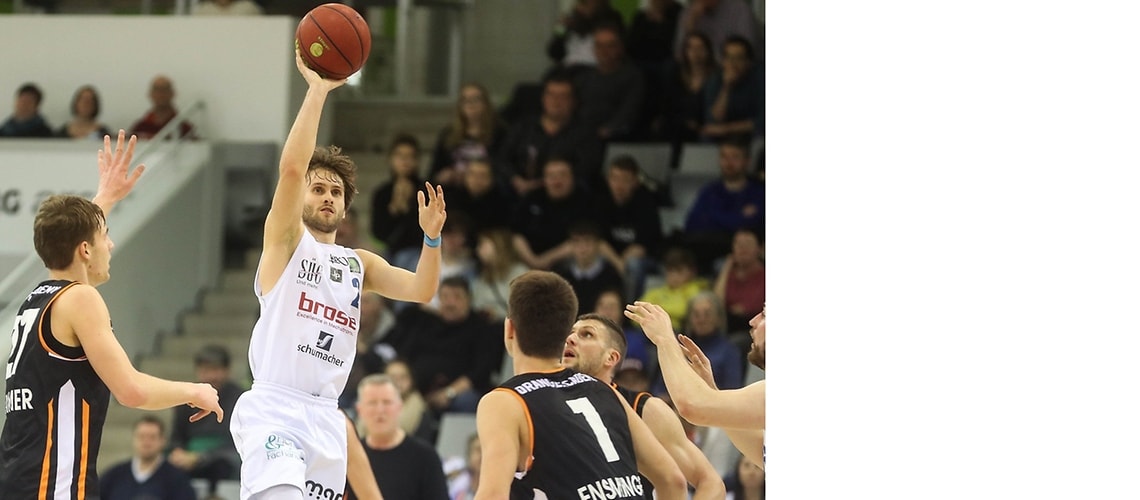 Elchingen, 01-25-2020
BBC Coburg's four-month winning streak on the road in the BARMER ProB South 2nd German Basketball League has come to an end. The BBC did not stand a chance against top-of-the-table scanplus Baskets Elchingen in its 65:87 (25:40) defeat on Saturday evening – for the first time since October it has failed to take any points home.
The home side dominated the opening in the Brühlhalle and quickly surged 7:0 in front in the 2nd minute. Yet Coburg struck back powerfully, equalizing with a 7:0 run of its own and even going ahead thanks to Princeton Onwas shortly afterwards. Both teams were evenly matched in what was now a tight and fiercely contested encounter. After the first period the BBC trailed by the narrow margin of 16:18. Yet whereas the home side's shooting percentage remained high, Coburg began to go through a slight crisis: Tidjan Keita had to sit it out on the bench due to his foul count, as did Onwas. The league leaders pulled away point by point and exploited their chances cleverly; both teams went into the break with Coburg down by 25:40.
After the break, the home side even managed to stretch the gap to 25 points (25:50 in the 22nd minute). The visitors' engine also started to tick over again slowly, but they were still not able to reduce the deficit perceptibly. Trailing by 46:62 going into the final period, the BBC clearly needed to pull off a huge feat if it was to have a chance of staging a comeback against a cool and clinical Elchingen side.
Yet the opening spell of the last quarter showed that the home side, which had won 11 straight games going into the encounter, was again in no mood to relinquish victory against Coburg: Darian Cardenas Ruda drained a three and, when Coburg conceded a turnover, Lamar Mallory finished an alley-oop. The American then capitalized on another turnover to add a further slam-dunk, leaving the BBC 46:69 adrift and deciding the game. The visitors refused to give up and fought relentlessly, but ultimately were not able to make any impression against the strong Elchingen side.
However, the defeat is no disaster for Carsten Richter, Sporting Director at BBC Coburg: "You have to acknowledge ungrudgingly that Elchingen was simply too strong today. But we're still in an excellent position and on course to more than fulfill our expectations."
To cap the loss, forward Christopher Wolf dislocated the little finger on his left hand. More detailed examinations at the start of the week will show whether the BBC's captain will be forced to take a break.