Erlangen
Excitement down to the wire – HC Erlangen defeats HSG Nordhorn-Lingen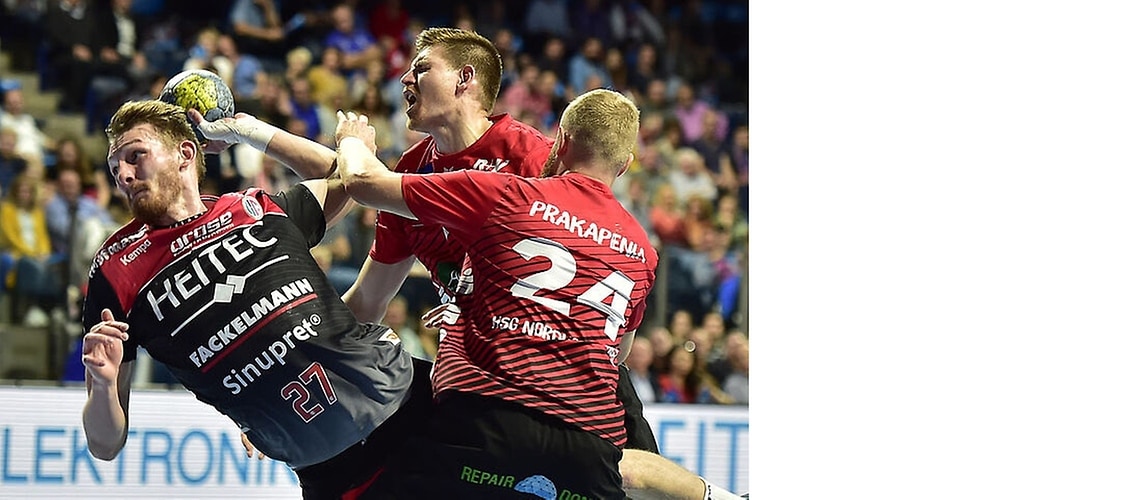 Erlangen, 09-29-2019
Erlangen's handball players celebrated their next home win on Sunday afternoon. In a game that could hardly been beaten for drama, the HCE kept its cool at the death to defeat HSG Nordhorn-Lingen 26:25. With 15 saves (38 percent of all shots on his goal), the HC's keeper Nikolas Katsigiannis helped his side to victory with a second left and so sent the ARENA NÜRNBERGER Versicherung into raptures.
HC Erlangen was able to parry Nordhorn's first attack and then went 1:0 ahead on its first attack through Nikolai Link. It was then thwarted twice in succession by the visitors' goalkeeper and so the club from Lower Saxony went 1:3 in front in the 7th minute. However, Ivic added two goals in succession to equalize again (3:3). The club from Franconia took its time over its attacks and created impressive chances, but Buhrmester in the HSG's goal prevented it from scoring twice in a row. However, Link and Büdel displayed total determination to score in the 13th and 14th minute respectively and tie the scores again (5:5). In a high-paced encounter in which HC Erlangen produced a strong performance in defense in particular, the home side managed to pull two ahead for the first time in the 17th minute. Yet the newly promoted club from Nordhorn was not to be shaken off and remained on the HC's heels for the whole of the first half. With his side short-handed, new signing Sime Ivic stormed through to make it 12:10 and, after Nikolas Katsigiannis between Erlangen's posts made a number of strong saves, both teams went in at half-time with the home side leading 13:11.
After the break, HCE saw its lead cut to 13:12, but was able to break though the opposing defense via the crease on its second attack (14:12). With his side one man up, Robert Weber – the league's top scorer in the 2014/2015 season – cut the gap to 15:14 with a seven-meter penalty. Erlangen kept on carving out chances creatively, but failed to score on three successive attempts and so Nordhorn was able to equalize (16:16 in the 40th minute). Metzner was brought on and made it 17:16 shortly afterwards, then Sellin increased the advantage to 18:16 in the 42nd minute after a save by Katsigiannis. When Metzner scored again to put his side three ahead for the first time, the visitors' Head Coach Sveinsson was forced to call a timeout. With ten minutes remaining, Nico Büdel won a two-minute penalty, but the league newcomers scored twice in a row despite being short-handed to reduce the deficit to just 21:20 in the 53rd minute. A truly nail-biting, almost incredible game of handball ensued at the death. A minute and 20 seconds were left when Julian Possehl tied the encounter at 25:25. Aðalsteinn Eyjólfsson called a timeout to help his team get into a position to shoot on its last move – and with success. However, when Sime Ivic put his teammate Sebastian Firnhaber through, the latter was stopped unfairly as he attempted to shoot and so the two referees rightly awarded a seven-meter penalty with 20 seconds left on the clock. No one in the crowd was able to remain seated when Florian von Gruchalla, fresh off the bench and not warmed up, stepped up to take the penalty. The right wing clinically scored with a cheeky shot to put his side 26:25 in front. Yet that was not to be the only highlight in crunch time. The visitors from Nordhorn had just under ten seconds to snatch a draw. The club from Lower Saxony stormed onto the attack with seven field players and Georg Pöhle was able to get a shot in. Nikolas Katsigiannis, who had been in sparkling form all evening, crowned his immaculate performance with the decisive save, and he and his teammates then went on to celebrate their home victory together.
"We had two outstanding goalkeepers on both sides today and two good defensive ranks – the result was a tough, but not unfair game. We're happy to have shown the morale we needed to win today, even if it was only narrowly," said Aðalsteinn Eyjólfsson afterwards.
Erlangen's next encounter is on Sunday, October 6, when its travels to Balingen on the 8th game day in the LIQUI MOLY German Handball League. After the game on the road in Swabia, there are exciting encounters in store in the ARENA NÜRNBERGER Versicherung. The team of Head Coach Aðalsteinn Eyjólfsson will line up in front of its home crowd twice in one week, first against FRISCH AUF! Göppingen (Thursday, October 10, tip-off: 7 p.m.), after which it welcomes the star ensemble of Rhine-Neckar Lions to the Noris (Sunday, October 13, tip-off: 1:30 p.m.). Tickets for the two highlights can be obtained in the online shop and at all the usual Reservix ticket offices.
https://www.hc-erlangen.de/