Bayreuth
FIBA Europe Cup: medi Bayreuth proves unstoppable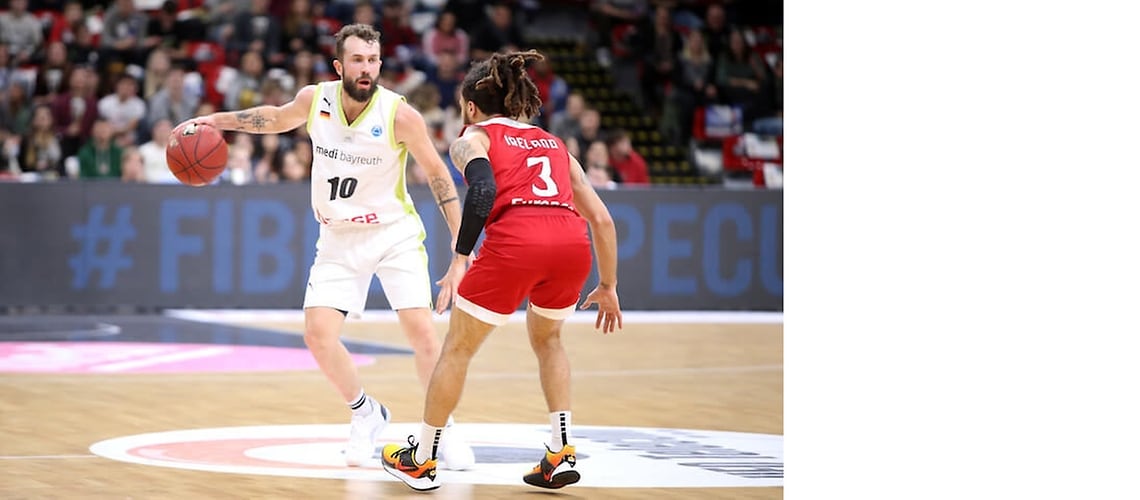 Bayreuth, 12-18-2019
It was an almost perfect second half by medi Bayreuth in game two of the second group stage of the FIBA Europe Cup, as it romped to what was in the end a very clear 96:78 (42:51) victory at home against SL Benfica.
In front of 2,032 spectators in Bayreuth's Oberfrankenhalle, the HEROES OF TOMORROW took the second half by 54:27 to capture their first win in the second round. Since Bakken Bears won on the road at Spirou Basket in Belgium, the team of Head Coach Raoul Korner is now second in Group I behind the Danish club and is back in contention to qualify for the next round.
After his side's weak starts in recent games against ALBA BERLIN and at Bakken Bears in Denmark, medi's Head Coach Raoul Korner changed his starting five this time. With Bastian Doreth instead of James Robinson and Lukas Meisner in place of Reid Travis, the HEROES OF TOMORROW did not allow their opponents to build a lead to begin with. Although the Portuguese club led for most of the time, medi Bayreuth always kept within striking distance. Arnette Hallman scored 12 points in the second period alone and so played a key role in helping Benfica pull away from medi in this phase. A bucket from downtown by the captain gave the visitors their first double-digit lead (43:32 in the 17th minute) and the 25-times Portuguese champions still led by nine at the break.
However, the momentum now completely tilted Bayreuth's way. Whereas medi conceded a hefty ten turnovers in the first half, they slashed that figure to just two in the entire second half. In addition, the team of Head Coach Raoul Korner piled the pressure on the opposing side as it built its plays, with the result that Benfica scored a meager four points in the first 6:45 minutes after the break. In contrast, medi got better into its stride in offense and took the lead thanks to a three from Lukas Meisner (57:55 in the 26th minute). medi was now playing extremely strong basketball and, from trailing at the break, snatched an eight-point lead thanks to a 29:12 run in the third quarter.
And the visitors were not able to find an antidote to Bayreuth in the final period, either. On the back of their extremely strong defending in the second half, the HEROES OF TOMORROW pulled away point by point and by the end had even amassed their highest lead of the evening: 18 points.
The HEROES OF TOMORROW now face their next game this Saturday. The team of Head Coach Raoul Korner is back in action in the easyCredit German Basketball League and travels to MHP RIESEN Ludwigsburg. The tip-off in the MHP Arena is at 8:30 p.m.
www.medi-bayreuth.de