HC Erlangen succumbs to Magdeburg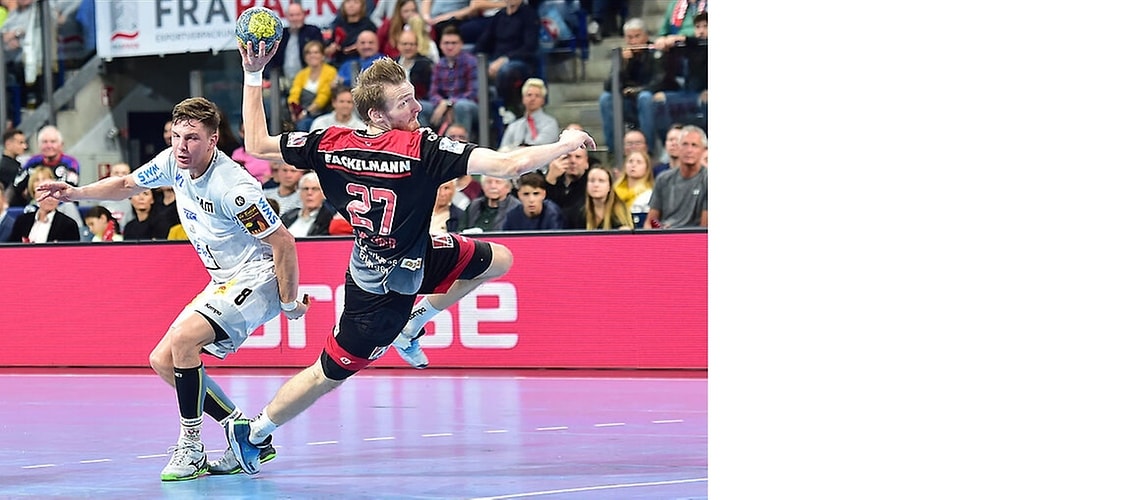 10-20-2019
HC Erlangen went down to a 27:31 (11:17) home defeat against SC Magdeburg. Despite trailing by ten goals, the home side displayed its morale and courageously fought back in the second half to cut the deficit to three. Erlangen slipped five behind in the opening minutes and that burden meant the favorites from Magdeburg were never in any real danger of letting victory slip.
The visitors got off to the better start: After three unsuccessful attacks by the club from Franconia, SC Magdeburg pounced with two goals from Michael Damgaard and one apiece by Musa and Pettersson to move 4:0 ahead. That induced Head Coach Aðalsteinn Eyjólfsson to call a timeout in the 6th minute. The HC's fans had to wait seven minutes to cheer their team's first goal. Trailing by 0:5, 2:6 and then 5:10, HC Erlangen tried to fight its way back into the encounter. Yet because Erlangen's defense was only rarely able to find an antidote in defending against the agile pivot Musa and it also had problems in attack with unlocking the offensive 5:1 defensive system, the SCM pulled 5:12 in front in the 18th minute. The HCE had still not gotten into the game after 20 minutes and so Eyjólfsson again called a timeout to rally his players. His pep talk bore fruit and his players were now more resolute in attack and defense. As a result, the HCE closed the deficit from 6:16 to 11:17 by half-time.
After the break, Johannes Sellin made it 12:17 with an impressive Kempa trick while his side was short-handed and then Carsten Lichtlein got into his stride more and more, enabling Büdel to reduce the gap to four goals in the 35th minute. The home side was now much more aggressive in defense and kept on stealing possession. Nikolai Link made it 14:18 and his teammate Antonio Metzner, who ended up as top scorer with ten goals, was also successful and scored after a pass from Büdel (15:18). The visitors' Head Coach Bennet Wiegert seemed annoyed that his team had let a ten-goal advantage dwindle to just three and called a timeout in the 40th minute. The favorites from Saxony-Anhalt now stepped up a gear and scored three without reply to pull 17:23 in front. In particular their nimble wingers Matthias Musche and Daniel Pettersson proved to be in reliable scoring form. The duo also prevented HC Erlangen from getting back to within striking distance. Christopher Bissel, the first Erlangen player to chalk up 100 games in the top flight, made it 22:27 with ten minutes remaining. The home side fought selflessly to the wire, closing the gap to 25:28 with four minutes to go, but was no longer able to pose a risk to Magdeburg's victory despite offensive man-to-man covering at the end. Although HC Erlangen lost, it can also take away positives from the encounter. After all, the club from Central Franconia managed to defy a strong opponent. Another aspect that gives grounds for optimism: After trailing by ten goals, Erlangen cut the deficit to three at one point.
"We found it difficult to get into our stride today, but were able to adapt to the offensive 5:1 defense as the game went on. As a result, we managed to reduce the ten-goal gap to three. I'd like to pay my team a huge compliment for its fighting spirit, and also our fans, who again got right behind us," said Aðalsteinn Eyjólfsson at the press conference afterwards.
Erlangen now has a breather until November 7 to prepare for the next task, an away game against Bergischer HC.
www.hc-erlangen.de