Ebern
Rally Ebern: Patrik Dinkel and Tamara Lutz at the top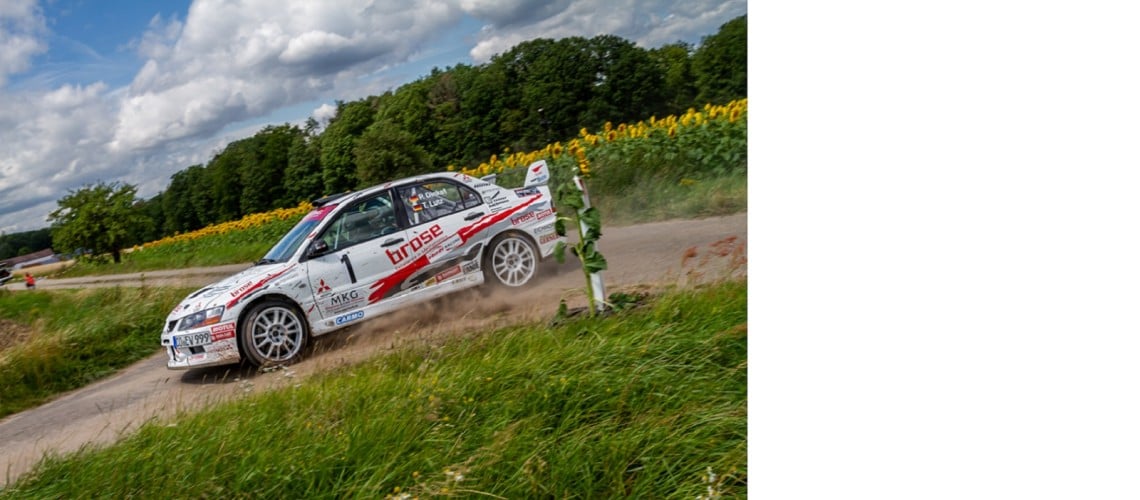 Ebern, 07-31-2021
Four fastest times and the overall victory - that's the short version of the performance of Patrik Dinkel and Tamara Lutz in the Mitsubishi Lancer Evo 9 RS at the 23rd ADAC Haßberg Rally in Ebern.
Due to the Coronavirus restrictions in spring, the organizer changed his regular date from the Whitsun weekend to July 31. The completely new special stages 1 and 3, which also included a short spectacular gravel section, as well as a variation of familiar sections over 9.5 kilometers on SS 2 and 4 met the taste of the participants. The starting field was made up of the who's who of the national and southern German rally scene.
Right from the start, Patrik Dinkel and Tamara Lutz took the top position and successively extended their lead. "The curse has been broken," beamed the youngsters overjoyed when they crossed the finish line after four demanding special stages with a lead of more than thirty seconds over the competition. "Everything just clicked into place today. After our engine failure in 2019 and our accident in 2018, we were finally able to celebrate a victory in Ebern! At this point, I would like to thank our sponsors, who were always by our side even on not so good days and supported us in the best possible way!"
The next event for the junior team is already scheduled for next weekend with the Rally Sprint in Untergröningen in Baden Württemberg. "We are using this test as preparation for the ADAC Saarland-Pfalz Rally (August 20/21) with start and finish in St. Wendel. There we will try to score as many points as possible after our opening victory in the ADAC Rally Master", co-driver Tamara Lutz gives an insight into the further schedule.