Munich
Season ends for Brose Bamberg at the quarter-final stage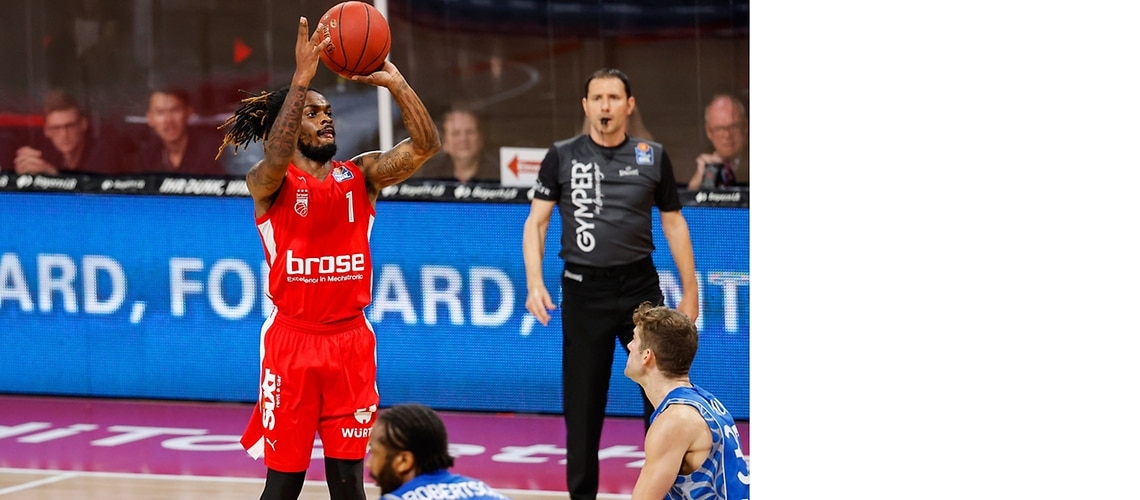 Munich, 06-20-2020
The 2019/2020 season is over for Brose Bamberg. In its second quarter-final game against EWE Baskets Oldenburg, the team of Head Coach Roel Moors did not have a chance for the most part and lost deservedly by 75:89. Bamberg proved a match for its opponents from Lower Saxony only in the opening spell, when it managed to close the five-point game from the first game.
Bamberg suffered a big shock before the tip-off: Elias Harris, his side's best player (24 points) in the 81:86 defeat two days previously, was forced to withdraw with back problems. Bamberg nevertheless got off to a good start: Jordan Crawford drained a lay-up, three free throws after being fouled while attempting a three-pointer, and later a bucket from downtown to make it 14:8, after which Retin Obasohan added the next lay-up (16:8) – Bamberg had canceled out the five-point deficit from game one! However, Bamberg then made too many mistakes in defense again and too many of its attacks were not well thought-out, with the result that Oldenburg regained the lead by the end of the period (19:24). Bamberg remained in striking distance until midway through the second quarter (34:39) and then Oldenburg produced a spurt to surge 38:51 ahead, but top scorer Kameron Taylor (20 points) struck back with seven points in a row in the final minute before the break (46:51). It seemed at that stage that Bamberg was still in with a chance.
Yet any hopes of victory for Moors' team were dashed by a poor start to the second half: Bamberg failed to score on ten attacks in succession and had five shots blocked in four minutes, meaning the deficit widened to 46:59. And things got worse: Bamberg trailed 53:72 shortly before the end of the period and so needed to make up 25 points to qualify for the semi-finals. Even the next 7:0 run by Moors' team to make it 60:72 could not turn the encounter around, as Oldenburg defended its lead intelligently to the end. Apart from Kameron Taylor, only Tre McLean, Christian Sengfelder and Joran Crawford (11 points apiece) were able to get into double digits.
Roel Moors, Head Coach of Brose Bamberg, commented: "First of all, congratulations to Oldenburg. It was the better team over the whole 80 minutes. We had our chances, but we didn't capitalize on them as we needed to. Unfortunately, not enough of us played at the top of their game. That was our big problem."
For more information visit www.brosebamberg.de and www.easycredit-bbl.de.