Oberhaching
Weak throwing performance in Oberhaching Disastrous third quarter costs BBC Coburg the victory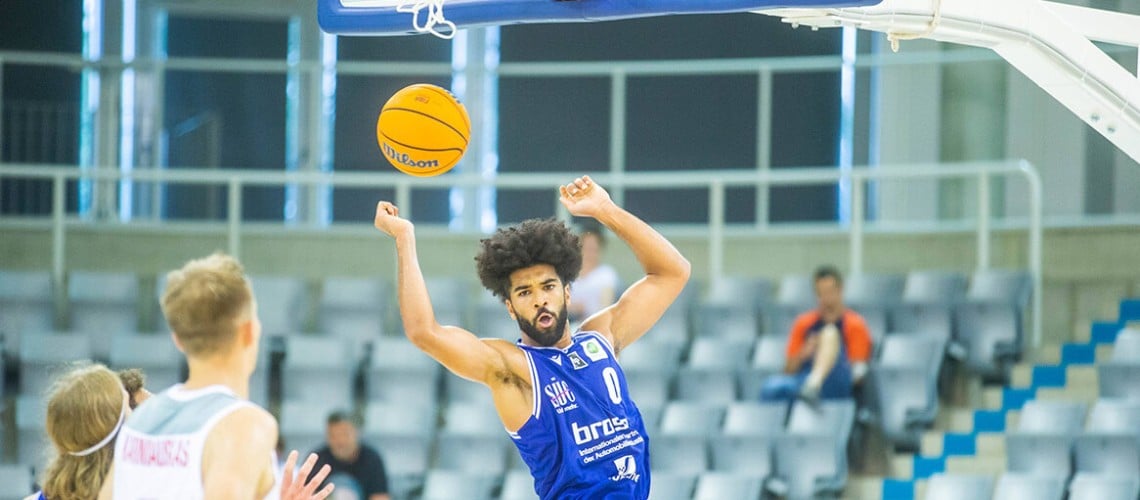 Oberhaching, 10-16-2022
With a weak performance in the third quarter, BBC Coburg deprived itself of victory on Sunday afternoon. Against the Oberhaching Tropics, Coburg's basketball players lost 85-78. The best scorer was Omari Knox from Oberhaching with 27 points.
BBC Coburg traveled to Oberhaching with ten players. Leon Bulic was missing, as was Adrian Petkovic, who had an appendectomy during the week. Coburg got going quickly and scored twice in a row already in the first minute through Blunt and Lorber. After Vedder also sank a jumper on a pass from Carrasco, the Vestädter led 7:0. However, the Tropics leveled the Coburg lightning start and pulled even at 15:15 after a basket by Dippold. Oberhaching's top scorer Omari Knox came up with a three-pointer from the run and put his team in the lead for the first time.
Tyreese Blunt delivered a strong performance on both ends of the court. First, he connected on a lay-up and shortly after from the free-throw line, which helped BBC even the score at 25-25. The Coburg run was quickly ended, however, and the Tropics caught fire again. Philipp Bode and Jörg Dippold scored from downtown, prompting BBC coach Miller to call a timeout.
Only one three-pointer out of 13 attempts found its way into the goal by then. In addition, there were ball losses due to offensive fouls and misplaced passes. BBC forward Vedder then worked successfully in the post and set the score at 39:42 from Coburg's point of view. The free throw rate of the Upper Franconians was also positive in the first half: with 13 goals from 16 attempts, it was a solid 81 percent.
The hosts came out of the break with a quick 5:0 run and Jessie Miller wanted to interrupt it with a timeout. However, things continued not to go well. The BBC again committed several turnovers and also failed to finish simple basket shots. After five minutes in the second half, Coburg's basketball players had not yet scored a point. At this point, the Tropics had already lost 19 balls.
Even with this economical yield, they pulled away effortlessly. Milan Suput ended the offensive drought from the free throw line. Jessie Miller now sent only players from the bench to the court, hoping they would have better luck in finishing. Joseph Saigge snatched the ball from Omari Knox in the build-up to the game and hammered the BBC frustration into the net with a dunk to make it 58:43. The air was already out, however. The Tropics went into the final quarter with an 18-point cushion.
Coburg's characteristically aggressive defense put the Tropics in trouble, but the deficit from the third quarter could not be recovered for Coburg even with an energy performance in the final chord. Oberhaching kept its clean slate with the 85-78 victory and claimed its third win in a row.