Coburg
After slow start, BBC COBURG cruises to 7th straight win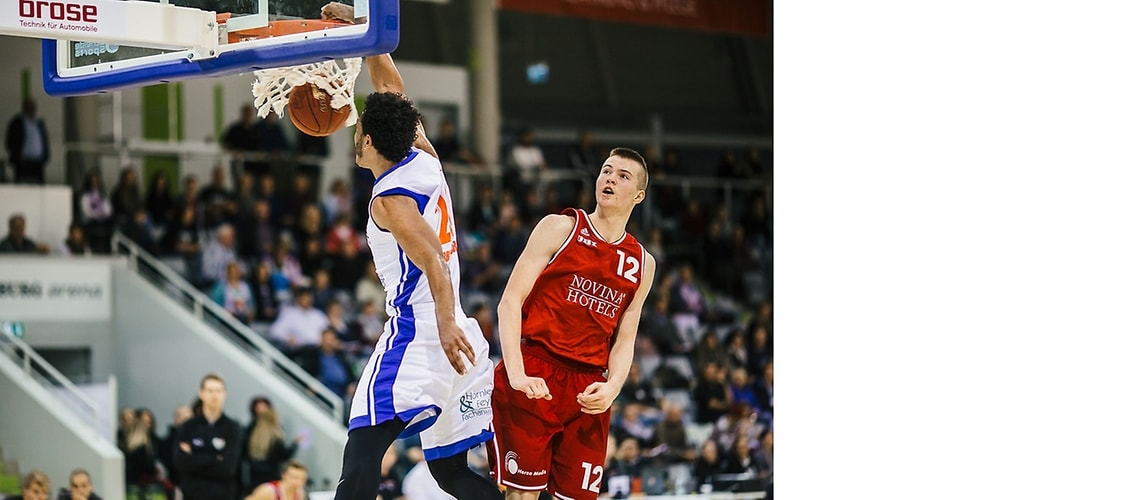 Coburg, 2016-27-11
On Sunday afternoon, BBC COBURG overpowered a young and undermanned Longhorns Herzogenaurach team 97-66 to defend the top spot in the 1. Regionalliga Southeast rankings.
To everyone's surprise, the guests jumped out to a quick 8-4 lead and continued to fire on all cylinders throughout the first stanza. In particular, talented point guard prospect Nils Hassfurther punished a number of lazy defensive rotations by the heavily favored hosts from beyond the arc and contributed eleven first-quarter points to a 26-22 Longhorn lead after the initial ten minutes of play. Bit by bit, however, BBC's size and strength advantage started to pay dividends and the HUK-arena crowd of 700 saw a rather one-sided contest. The home team controlled the boards on both ends and amassed an incredible total of 50 points in the paint while outrebounding their opposition 45 to 19 on the night. Power forward Fabian Franke muscled his way to 25 points and eight boards while wing Steffen Walde (23 points) wrought havoc with an onslaught of drives to the basket.
In the second half, American forward Jordan Burris came alive after a very quiet three points in the first twenty minutes. The California native now showcased the entirety of his versatile skill set and ended up with 21 points on 8-of-14 shooting from the field. He also contributed nine caroms. When Coburg strung together yet another 11-0 run early in the fourth quarter, the youthful Longhorn squad never really recovered. Walde's deep three with the final buzzer put the icing on the cake of BBC's seventh consecutive league win.
The Upper Franconians, who travel to Jena next Saturday, December 3, 2016, remain atop the league table with an 8-1 record.