Coburg
BBC Coburg loses at home to Dresden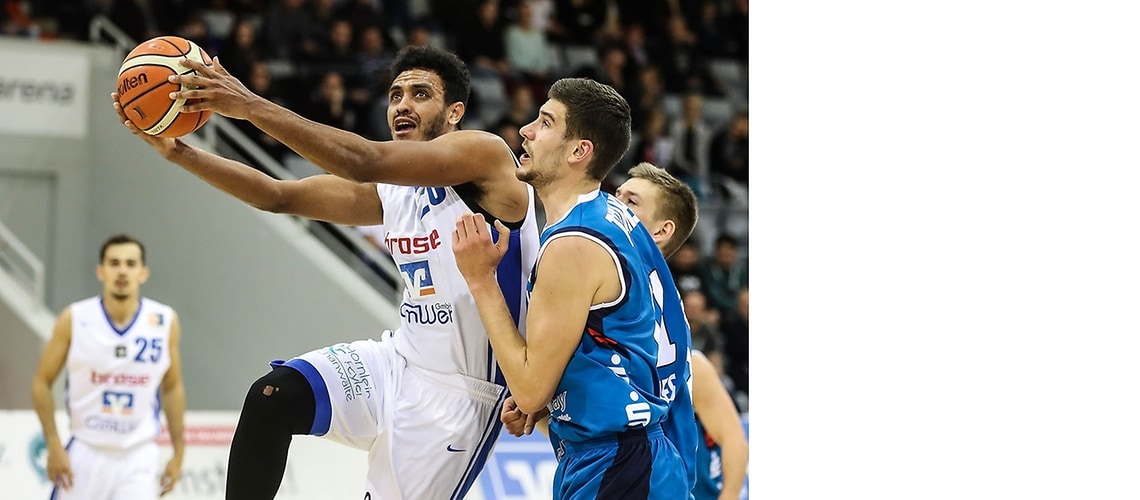 Coburg, 2017-26-11
The home side got off to a good start and quickly went 5:0 ahead through points by center Daniel Stawowski and forward Christopher Wolf. Both sides then traded blows with successful moves in a varied, end-to-end encounter. Jordan Burris added the 12th of his total of 18 points in the first twenty minutes. The former Dresden player Von der Wippel repeatedly displayed his passing skills, setting up Anell Alexis and Daniel Stawowski in succession to score spectacular slam-dunks. Yet Dresden never let Coburg pull away. In particular point guard Janek Schmidkunz was often a step too quick for the opposition defense and either finished the attack himself or played an assist to his teammates. Coburg went in at half-time with a 44:37 lead.
Titans' Head Coach Nenad Josipovic must have found the right words in the dressing room: Back on court, his players were more alert and above all shot with greater accuracy. In particular, Travis Thompson ran into brilliant form. The U.S. shooting guard drained four buckets from beyond the arc in the space of five minutes to put the club from Saxony ahead almost single-handedly. The game was ultimately decided by a run of 11 points without reply by the visitors at the start of the final period. Now it was the strong forward Helge Baues who started scoring copiously. The home side was also disgruntled with a number of controversial decisions by the referees and were thrown right off their stride.
When Kevin Eichelsdörfer buried his third three to make it 77:82 with one minute to go, the hopes of the home crowd in the HUK-COBURG arena were nevertheless rekindled. Yet Dresden did not show any nerves and ran out winners by 83:90. However, BBC COBURG are moving further and further away from a playoff berth and should urgently find a way to translate solid performances into points.