Coburg
BBC Coburg loses at home to Iserlohn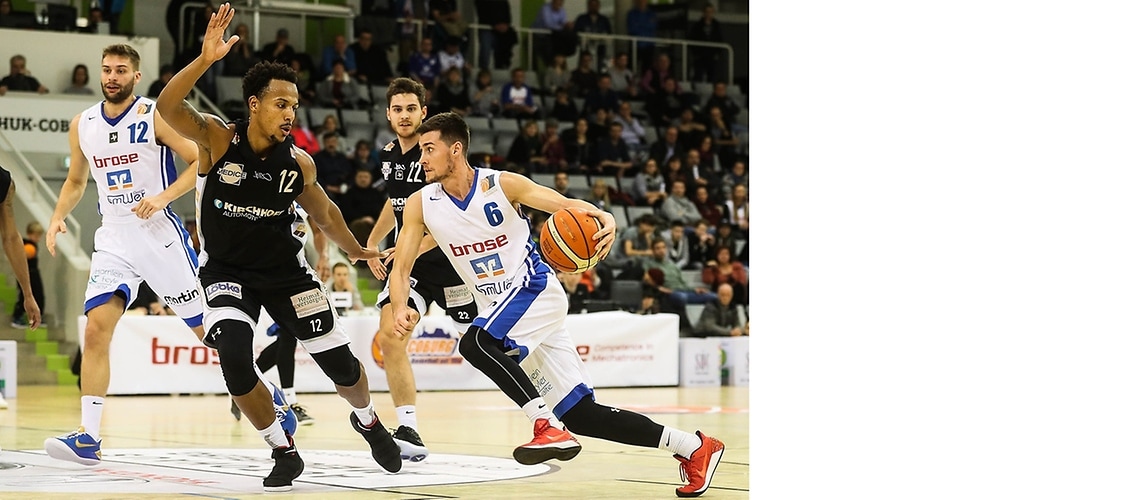 Coburg, 2017-03-12
Derrick Taylor's first game as Head Coach after taking over from Simon Bertram did not produce the club's hoped-for fourth victory of the season in the ProB South 2nd German Basketball League. The game against Iserlohn Kangaroos ended 82:91, a margin that deserved to be closer. BBC Coburg at least showed highly promising signs that raise hopes for the challenges ahead of it in the battle to avoid relegation.
The home side moved the ball around very decently at the start of the game, repeatedly carving out open shots. Apart from a bucket from beyond the arc by Sanford to make it 5:3 and an acrobatic lay-up by the slightly injured Jordan Burris (11:8), however, not much dropped to begin with. The visitors from Sauerland led narrowly by 15:19 after the first period.
Although Coburg did not have greater luck with their shots after that either, the team at least lived up to Derrick Taylor's announcement before the tip-off: Every Coburg player fought to the death. The encounter was definitely not a beautiful one to watch, but the players could not be accused of not putting up a fight. Both teams went in at half-time with the Kangaroos leading by a wafer-thin margin, mainly thanks to points from solo actions by their three top scorers Sören Fritze, Donte Nicholas and Julian Scott.
BBC Coburg adopted a small ball tactic, i.e. a lineup of short players, after the break. Daniel Stawowski, who had three personal fouls to his name, was replaced in the center position by Christopher Wolf, while Anell Alexis and Burris took over the forward spots. The encounter remained scrappy, but also enormously intensive and exciting. Max von der Wippel with a hook throw and Yasin Turan, who was fouled while attempting a shot from downtown and buried all three free throws, gave the BBC a narrow lead at the end of the third period.
Donte Nicholas was then increasingly in the thick of the action in the final quarter. The athletic American forward first made Stawowski foul out and then increased the lead to 72:78 with energetic movements in the zone. BBC Coburg got to within four points again through Burris, but Nicholas and Nikita Khartchenkov sealed the game for the visitors from Iserlohn.