Zwickau
Blowout road win for BBC COBURG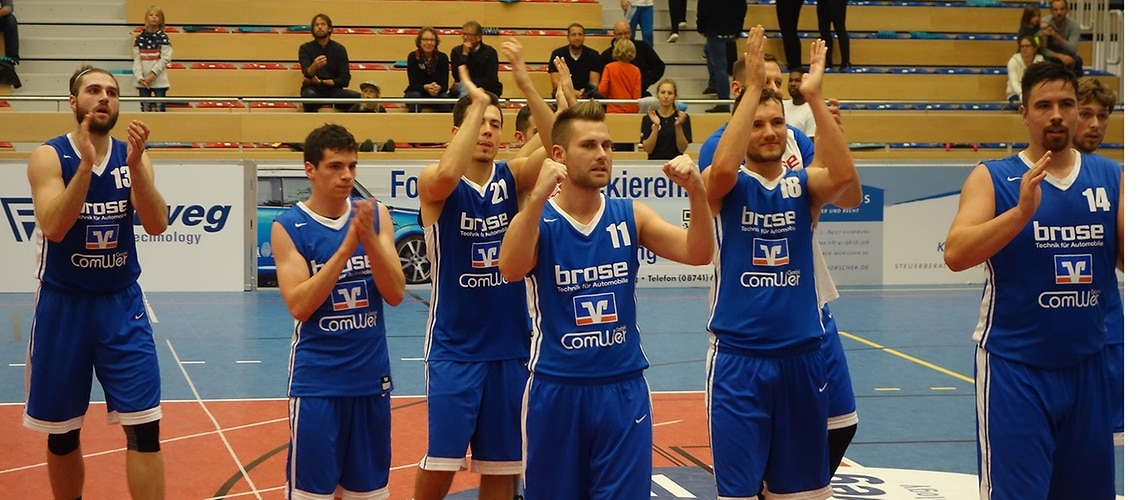 Zwickau, 2016-05-11
BBC COBURG extended their 1. Regionalliga winning streak to four by beating GGZ Baskets Zwickau 109:88 on Saturday evening. The road win propels the league newcomers from Upper Franconia to 3rd place in the standings.
Right off the bat, the guests found their offensive rhythm and repeatedly succeeded in attacking the paint. Forward Fabian Franke, in particular, shouldered the load early on: The 28-year-old former first-league player proved a handful for the Zwickau defense all night long and finished with 25 points on 11-of-16 shooting from the field. He also relentlessly crashed the boards (8 rebounds) and provided himself and his teammates with numerous second-chance opportunities. Valuable hustle contributions from reserves Andreas Albus, Manuel Imamovic and Kevin Eichelsdörfer plus intelligent game management and fine-tuned passing by floor general Eividas Molosciakas (15 points, 5 assists) helped BBC widen the gap to 14 points at the half (46:60). In the third stanza, BBC turned up their defensive intensity and started to create turnovers which led to a barrage of fast-break points on the other end. When a Jordan Burris (18 points, 7 boards, 6 assists, 3 steals) layup in heavy traffic made it 96:69 midway through the fourth quarter, the big road win for Coburg was essentially in the books.
Headcoach Simon Bertram was not overly happy with his team's defensive effort but lauded his players' output on offense: "Zwickau are a very physical and experienced team. To come here and dominate the way we did today is testament to our offensive potential."
His Saxon counterpart Stephan Wolf acknowledged the opponent's superiority in defeat: "We were unable to stop the Coburg "triple threat" of Franke, Burris and Molosciakas today. In my opinion, BBC are one of the favorites to win the 1. Regionalliga title this season."
BBC COBURG now faces a local derby against Breitengüßbach on Saturday, November 12, 2016 (tip-off: 7 p.m.) in the HUK-Coburg arena.