Bamberg
Brose Bamberg bags a victory against Bonn in the final quarter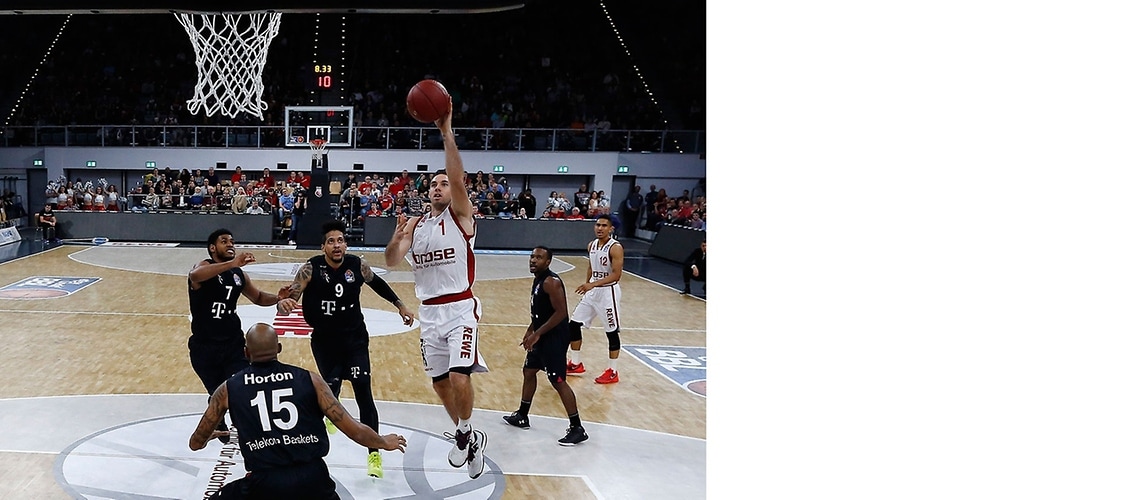 Bamberg, 2016-17-12
Only 48 hours after the classic 91:83 Euroleague victory against Anadolu Efes Istanbul, the German champions Brose Bamberg performed well in beating the Telekom Baskets Bonn easily by 84:64 points – but it took a strong showing in the fourth quarter by the Trinchieri team to finally seal the victory.
Since the team has two Euroleague games at Real Madrid and at home against Olympiakos Piräus in only 48 hours, trainer Andrea Trinchieri kept his two point guards, Janis Strelnieks and Nikos Zisis on the bench for the match against Bonn. This of course had an impact on the Bamberger offensive game, because the two young point guards Maodo Lo and Aleksej Nikolic couldn't organize the game as efficiently as those two seasoned veterans. In the first quarter, neither team could edge ahead by more than 3 points and Bamberg trailed 17:18 after ten minutes. Just before the break, Fabien Causeur, who clinched the title of the most valuable player in the Euroleague on Thursday with his 28 points on against Istanbul, netted eight points in succession to make it 34:29 for the Brose Baskets – but Bonn reduced that lead to 37:34 right on the buzzer.
Bamberg also failed to pull away in the third quarter. Bonn came back strongly to within one point (42:41) until Maodo Lo (9 points), Patrick Heckmann (5 points) and Fabien Causeur gave Bamberg a 57:47 lead. However, slack Bamberg defensive play allowed Bonn to score two three-pointers in a row and a lay-up at the start of the fourth quarter saw the lead shrink to just two points (57:55). In the final nine minutes, the Bamberg team's defensive work improved and Bonn lost the ball seven times against this stronger defensive performance in the last quarter. The Trinchieri team made sure of victory (73:57) with a 9:0 points run thanks to three 3-pointers in a row, two from Lucca Staiger and one from topscorer Fabien Causeur (20 points). The youngsters Aleksej Nikolic (6 points) and Maodo Lo (9 points) also threw 3-pointers cementing the convincing last quarter score of 27:11.
Head Coach Andrea Trinchieri: "We did what we had to do. We certainly weren't perfect during the first three quarters and we only found our rhythm at the end. With our schedule of two games in 48 hours, it's hard to keep playing well all the time."
On Tuesday, December 20th, the Trinchieri boys have an important Euroleague away game at Real Madrid. The game starts at 8:45 p.m.