Bamberg
Brose Bamberg captures first win of the season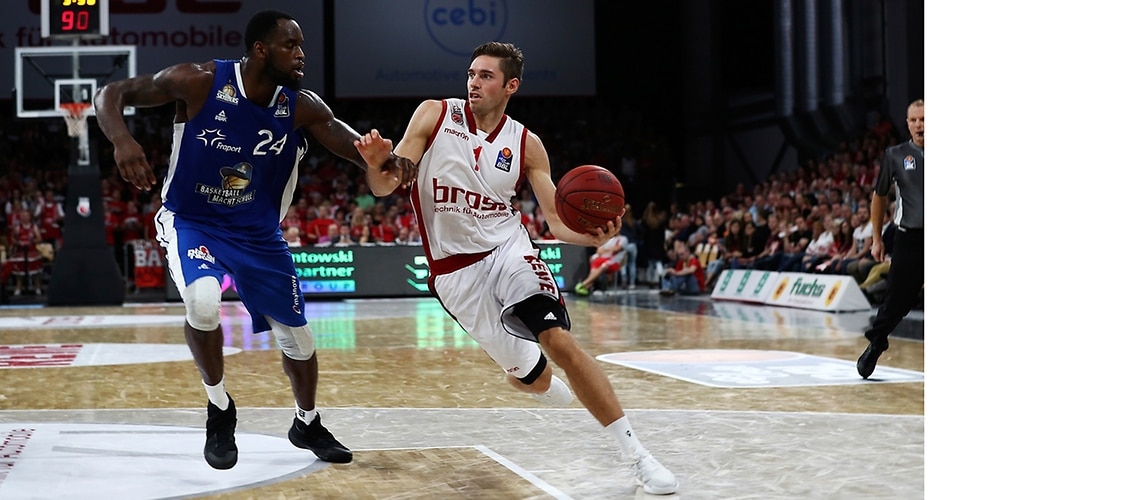 Bamberg, 2016-23-09
Brose Bamberg has got off to a successful start to the new German Basketball League season by defeating FRAPORT SKYLINERS by 84:55 in front of 6,580 spectators in the sold-out BROSE ARENA. A strong third period, which Bamberg took 33:16, laid the foundation for victory. The top scorer for the German champions in an encounter where every one of their players got on the board was Fabien Causeur with 18 points, while Nicolò Melli picked up nine rebounds.
Brose's Head Coach put on Fabien Causeur, Nicolò Melli, Nikos Zisis, Darius Miller and the newly elected captain as his starting five in the BROSE ARENA. The first points of the new campaign were notched up by Harris' deputy Nicolò Melli, which was followed by Fabien Causeur draining his first official bucket from outside for Bamberg (5:0 in the 2nd minute). The home side's defense was also solid from the outset, with the result that it was only with more than five minutes played that the visitors were able to score (9:2). Miller added four straight points for Brose to give his side a double-digit lead for the first time (13:2 in the 7th minute). Causeur then conjured up an assist to Veremeenko, who was likewise able to bag his first points for his new club. Brose led 16:4 with two minutes left in the first period, which ended 16:6.
It was a little over two-and-a-half minutes in the second quarter before Patrick Heckmann scored Brose's first points in it, his two free throws making it 18:8. Midway through the period, he added a bucket from beyond the arc (21:10 in the 5th minute). However, both teams failed to drain buckets from outside, with the visitors being more lax in that department than the home side. Graves buried a three and a free throw to make it 21:14 four minutes before half-time. Theis then added a lay-up, while Miller made three free throws and then drained a "proper" three afterwards (29:15 in the 17th minute). Bamberger took a nine-point lead with it into the break (32:23). Brose's top scorers up to then were Darius Miller with ten and Fabien Causeur with nine points; Nicolò Melli snapped up seven rebounds.
The second half opened with a three by Frankfurt's Starks, who thus brought his team to within six points (32:26 in the 21st minute). Causeur got Brose off the mark in the second half with an and one, while Strelnieks added a three to give Bamberg a double-digit lead again (38:26 in the 23rd minute). Merz drained a bucket from beyond the arc, but Heckmann struck back shortly afterward, likewise with a three, and Causeur buried two free throws. The home side was 16 points ahead midway through the period (47:31), a lead that Strelnieks stretched with his second three, after which Harris scored (52:33 in the 26th minute). The gap grew to 25 points when Daniel Theis drained two buckets from outside in a row with two minutes left in the quarter: 60:35. Bamberg led by 65:38 after the third period, which it took by 33:15.
A lay-up by Miller was followed by a 5:0 run by Frankfurt, which was halted by Theis (69:46 in the 33rd minute). Lucca Staiger made a three a short time later and added another with four minutes to go: 75:47. Fabien Causeur then extended the gap to 30 points with two free throws (77:47 in the 36th minute). The game was as good as over and Brose ran out winners by 84:55. The German champions now have seven days to prepare for the next game on the road against Basketball Lions Braunschweig on Friday.