Bamberg
Brose Bamberg defeats Gmunden after a sluggish start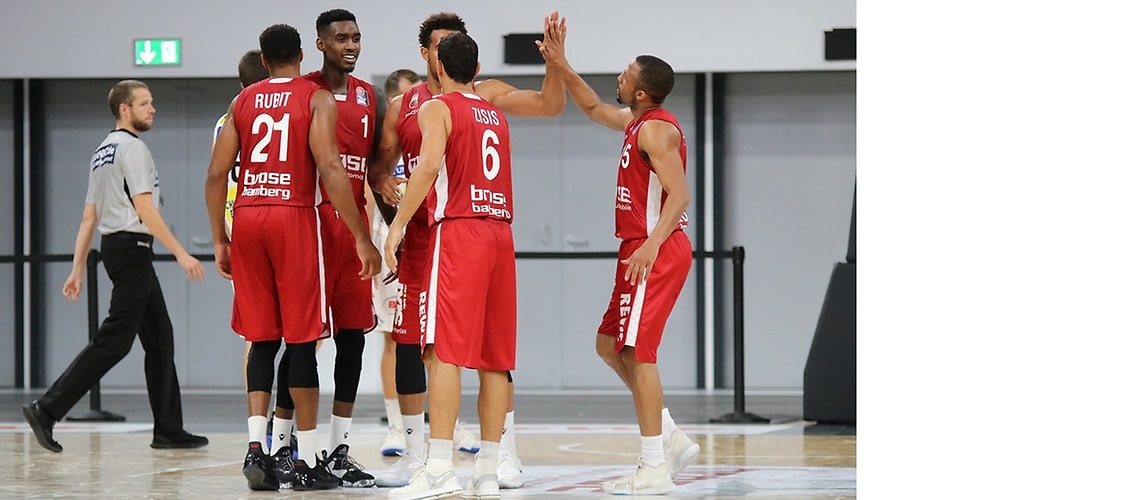 Bamberg, 2017-10-09
Almost exactly three months after winning the title, the German champions Brose Bamberg were back in action for the first time in the Brose Arena with their overhauled team. Yet the 82:71 victory over the Austrian first-division club Swans Gmunden made it clear that a lot of work is still ahead of Head Coach Andrea Trinchieri and his players.
Bamberg has to prepare for the new season without its five internationals Daniel Hackett (Italy), Maodo Lo, Patrick Heckmann, Lucca Staiger (Germany) and Ali Nikolic (Slovenia), while Louis Olinde is recovering from a planned operation and new signing Ricky Hickman from an injury. Five young talents from the club's cooperation partner Young Pikes Baunach therefore helped out Bamberg against Gmunden and so it was no surprise that the newly formed side lacked coordination. Trinchieri's team set up open shots for its three-point marksmen wonderfully, but too few – just four out of 25 attempts – hit their mark. Moreover, Gmunden exploited coordination problems in the opposing defense, with the result that Bamberg trailed 37:46 at the break. In front of 3,200 fans, the home side finally began to operate more aggressively midway through the third period, capitalizing on a number of turnovers to produce a 11:0 run and tie the encounter at 55:55. The German champs managed to open up a gap and seal victory in the final minutes, in particular thanks to captain Elias Harris (18 points) and new signing Augustine Rubit (17).
Elias Harris commented: "You saw that we had a lot of new players who don't yet know our systems so well. If we keep on working calmly day after day, that'll soon improve."
The German champions will test their form this weekend at the Expert Jakob Cup in Bayreuth's Oberfrankenhalle: Trinchieri's team faces PAOK Thessaloniki on Saturday, September 16, 2017 (tip-off: 7:30 p.m.) and either medi Bayreuth or Fraport Skyliners Frankfurt on the Sunday in the third-place playoff (2:30 p.m.) or final (5 p.m.).