Bamberg
Brose Bamberg loses to Baskonia Vitoria Gasteiz by 71:96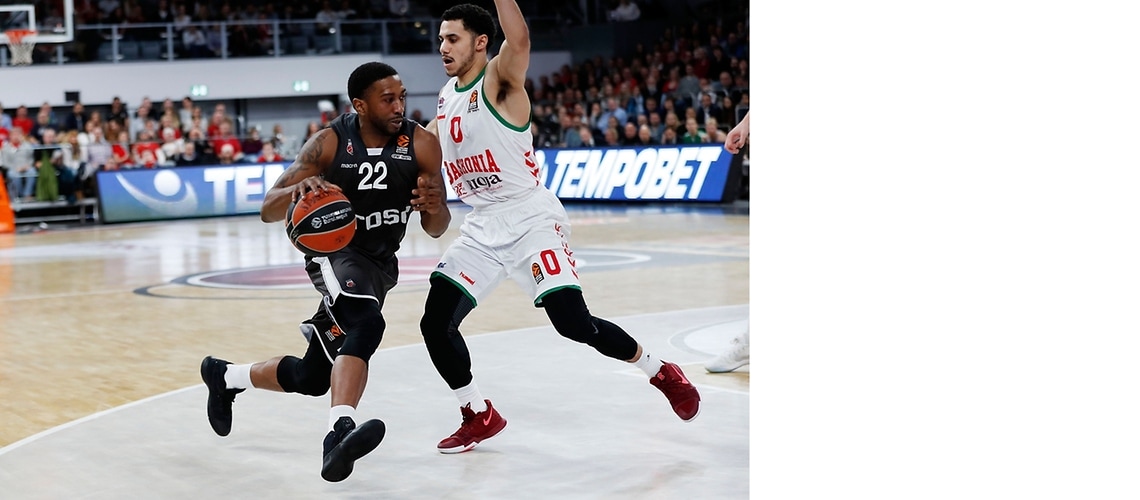 Bamberg, 2017-21-03
It was one of those games that critics of the new Euroleague format had warned about before the season: Brose Bamberg has no chance of advancing to the playoff stage, faces a key top-of-the-table duel in the German League against unbeaten leaders Ulm on Sunday, and yet still has to play two games in midweek that are as good as meaningless in Europe's top club competition. The first against Baskonia Vitoria ended in a 71:96 home defeat.
Following the loss against FC Bayern Munich, Head Coach Andrea Trinchieri was plagued even more by personnel worries: In addition to Elias Harris and Janis Strelnieks, who have been out through injury for a lengthy time, Maodo Lo was also missing against Baskonia Vitoria after falling awkwardly on his foot in the Audi Dome on Sunday. Andrea Trinchieri changed his starting five – Melli, Zisis, Causeur, Miller and Radosevic – relatively quickly and rested his regular players, since it was plain to see that the strain of the last few months had taken its toll on their concentration and freshness, in particular with Melli and Miller. The upshot: inaccurate shots and a team that was always a touch too late against the visitors from Vitoria. Bamberg trailed by 5:22 after eight minutes before Lucca Staiger and Patrick Heckmann drained their side's first out of ten buckets from beyond the arc. All the same, the encounter was as good as decided after the first period (11:28). Jerel McNeal scored ten points in the second quarter to reduce the deficit to eleven (34:45), but Baskonia turned on the heat again and left Bamberg trailing by 36:53 at the break.
The balance of power didn't change in the second half, either. Daniel Theis (11 points) made two impressive slam-dunks to the jubilation of Bamberg's fans, Lucca Staiger (12) was in accurate form from downtown, scoring four out of six attempts, and top scorer Jerel McNeal (17) stormed formidably through Baskonia's defense a number of times to add lay-ups. Yet Vitoria, a team studded with six experienced NBA veterans, had a strong response to all of that, with the result that Bamberg suffered its highest home defeat of the season (71:96).
Andrea Trinchieri commented: "Congratulations to Vitoria on an impressive game. We were only average today. We couldn't deal with our opponents' physical play. So I have a clear opinion: They had to win to claim a playoff place, whereas we were already eliminated. That's what made the difference. The game was decided in the first period, when we weren't physically and mentally prepared and couldn't keep up. After that, we found a way and matched them, but they were still impressive and deservedly won."
Brose Bamberg now faces its last game on the road in this Euroleague season tomorrow, March 23, 2017, when Head Coach Andrea Trinchieri and Nicolo Melli face their former club Emporio Armani Milan in their native country (tip-off: 8 p.m.).