Bamberg
Brose Bamberg loses to Panathinaikos Athens by the narrowest of margins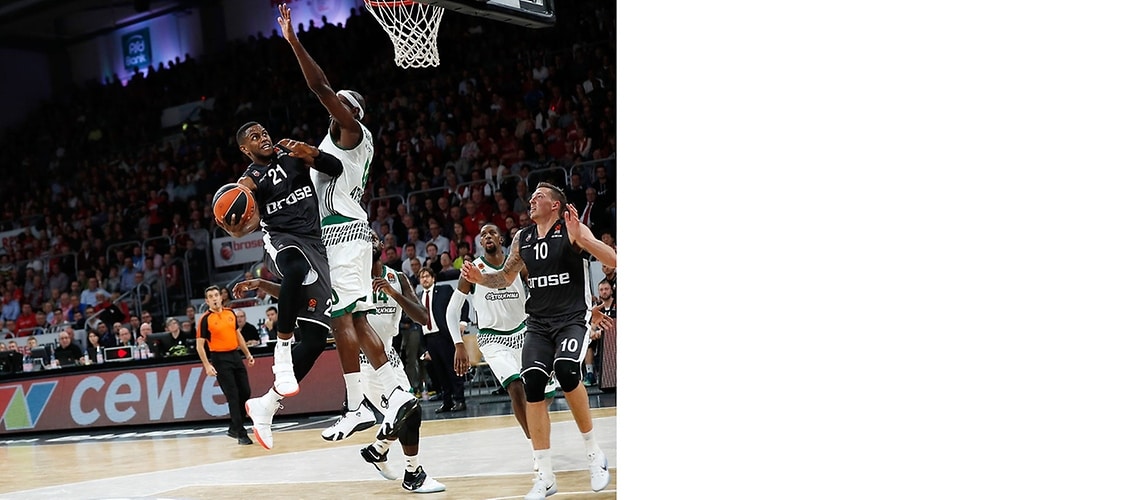 Bamberg, 2016-26-10
What a bitter defeat after a tough thriller in the Euroleague! With three minutes to go, the German champions Brose Bamberg were 83:73 ahead of Panathinaikos Athens – yet the team of Head Coach Andrea Trinchieri nevertheless let the game slip out of its grasp after the visitors scored 11 points without reply. The Greek side finally won by 83:84 to take the points home from the Brose Arena cauldron.
Trinchieri sprang a surprise at the start of the encounter against a club steeped in tradition: Leon Radosevic was in the starting formation – the center had labored for a long time with the consequences of an ankle operation in the summer and, now that he had recovered, made his first appearance of the season. And Radosevic slotted in strongly, making a slam-dunk over Athens' Demetris Nichols plus a bonus free throw to put Bamberg 3:0 ahead. Yet Athens was not intimidated by that and subsequently tightened up its defense, in particular below the basket, to take a 20:12 lead, also because Bamberg only scored from the slam-dunk by Radosevic out of twelve two-point shots in the first period. However, Nicolo Melli kept the home side in the game with his three buckets from beyond the arc and Janis Strelnieks was able to complete a 10:0 run with two successive lay-ups to put his team 22:20 in front. However, Panathinaikos struck back and opened up a narrow gap by half-time (37:42).
Andrea Trinchieri must have impressed the right tactics on his players in the break: After Athens extended the gap to 39:44, top scorer Nicolo Melli (17 points), Nikos Zisis, Darius Miller and Janis Strelnieks (16) turned on the heat to help produce a 15:0 run and give their side a double-digit lead (54:44) to the huge jubilation of the 6,580 fans. However, Athens was back in touch in the space of two-and-a-half minutes and by the end of the third period Bamberg's lead had shrunk to one point (63:62). Fabien Causeur now also got into the game better and Bamberg opened up a 73:64 gap thanks to his strong lay-up and a three. Then Nikos Zisis (13 points) took over, first with five important points to make it 81:73, followed by a strong pass to the freestanding Daniel Theis, who put his side 83:73 in front with three minutes left. Yet Trinchieri's team deprived itself of victory, committing two successive fouls on Athens players as they were making lay-ups and so enabling the visitors to complete two three-point plays (83:79). And whereas it seemed as if the home side was playing against a boarded-up basket, Panathinaikos kept on scoring: a bucket from downtown (83:82) and an offensive rebound and a Hail Mary shot to take a 83:84 lead with 3.2 seconds on the clock. Darius Miller (12 points) had Bamberg's last shot, but it only hit the hoop, thus sealing the club's first defeat in the Euroleague in the Brose Arena for 11 months.
Andrea Trinchieri commented: "I have to divide my remarks into two sections: the first 37 minutes and the last three. We played excellently for 37 minutes. Even in the first half, where we stayed in the game despite the fact that Panathinaikos made incredible shots. After the break, we played with great energy for 17 minutes, let the ball run brilliantly and opened up a 10-point gap. But in the zone in the final three minutes, we lost our concentration, hardly captured any rebounds and so lost to a six-times European champion. It was a hard lesson, but we'll learn from it."
Brose Bamberg soon faces its next tough nut in the Euroleague on Friday, October 28, 2016: on the road against FC Barcelona (tip-off: 8:45 p.m.). And that is not all: Trinchieri's players then fly back to Germany for an encounter in the German league at MHP Riesen Ludwigsburg on Sunday, October 30, 2016 (tip-off: 6 p.m.).