Nuremberg
Brose Bamberg luckless against Real Madrid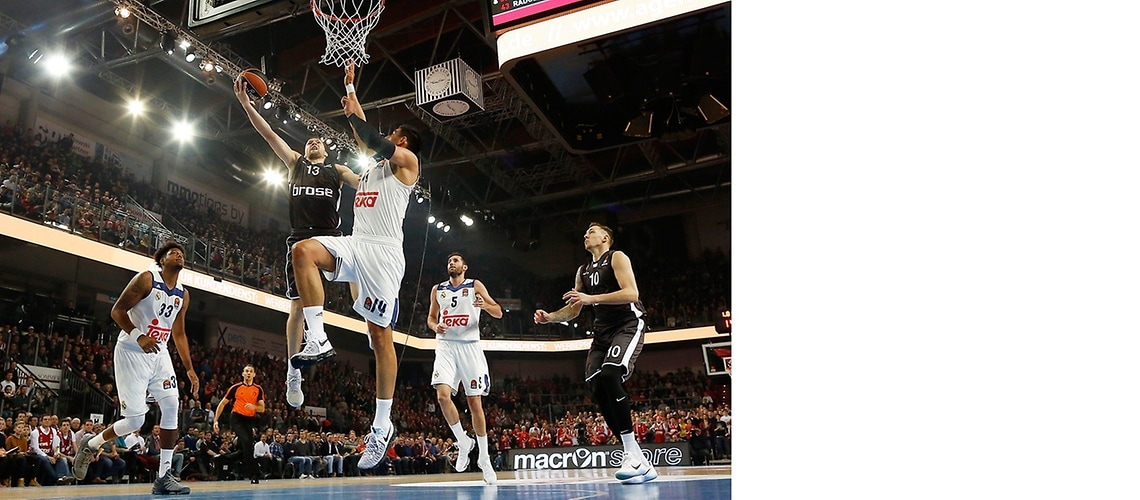 Nuremberg, 2017-25-01
What a basketball spectacle in the Nürnberger Versicherung Arena! It was yet another top-class game played with high intensity, at a fast pace and with great moves – and a turbulent ending in which the German champs went down to a last-second defeat against Real Madrid by 89:91. Their third loss in a row means they have lost touch a little with the teams in a playoff berth, whereas the Spanish club has taken over at the top of the table for the first time this season.
8,000 spectators in the Nürnberger Versicherung Arena celebrated before the game began when Michael Stoschek had the honor of presenting Nicolo Melli with the Euroleague trophy for the Most Valuable Player in December. The Spanish champions got off the better start and soon went 0:4 in front, but Bamberg's Fabien Causeur bagged five points to tie the scores at 5:5. Despite being confronted with strong defending, the visitors were able to score more easily than Bamberg, draining the occasional three and simple lay-up and so maintaining a two- to three-point lead that the team of Head Coach Andrea Trinchieri had to fight hard to try and close.
Darius Miller and Janis Strelnieks in particular scored from beyond the arc, sometimes with difficult shots, and so ensured that the favorites did not pull away (21:25). Madrid led by six points at the beginning of the second period (28:34), but Patrick Heckmann with a lay-up and bonus free throw, Janis Strelnieks with a three and Daniel Theis with a ripping slam-dunk put their side 36:34 ahead.
However, Madrid's Jaycee Carroll turned on the heat to add eight points in a row and give his side a 41:51 lead. Darius Miller (13 points) and Nicolo Melli (11) reduced the gap to 47:51 at the break.
Center Leon Radosevic was Bamberg's man for the comeback, making a lay-up, stealing possession and passing to top scorer Fabien Causeur (14 points) who drained a three, and adding two free throws to equalize (56:56) – the best performance by the Croatian player for Brose Bamberg, and not just on account of his 11 points. Darius Miller gave his side the lead again with a bucket from downtown (59:58). Superstar Sergio Llull and Gustavo Ayon made it 64:70 for Real, but Bamberg took up the challenge and traded blows. Patrick Heckmann drained a three to bring the period to a close (69:70).
And Bamberg's big players followed suit: two slam-dunks from Daniel Theis (12 points) and a lay-up and slam-dunk by Leon Radosevic brought standing ovations from the fans in the arena. Yet in this high-class nail-biter between two top teams, it was the visitors who uncompromisingly capitalized on Bamberg's only weak point: Trinchieri's players were too hesitant below their own basket, with the result that Real was able to snap up 16 offensive rebounds and so exploit several second chances. That was compounded by dubious calls by the referees – with the score at 82:84, Nicolo Melli claimed the offensive rebounds in a tough tussle with Trey Thompkins, but a double foul was called against both of them, meaning Real retained possession and went on to drain a crazy three through old-hand Llull to make it 82:87. Theis hit back with a slam-dunk (85:87), but the referees did not award a foul on him despite the fact that he was severely impeded. Nikos Zisis, whose eight points all came from free throws, tied the scores at 89:89 with 8.9 seconds left on the clock. Yet that was enough time for Sergio Llull to decide the game with a magical lay-up over Daniel Theis – and with one second to go, the attempted three by Janis Strelnieks from his own zone unfortunately only hit the hoop.
Andrea Trinchieri commented: "We gave our all and held our own magnificently. We had the chance to win against one of Europe's best teams. We came back and made strong plays. However, there's one main reason we lost: We allowed 16 offensive rebounds. Against a team that gives you so many problems in defense because you have to cover five stars, it's really difficult to put up further defense if you don't snap up the rebound."
Brose Bamberg face their next encounter on the road in the Euroleague this Friday, January 27, 2017, when it travels to third-placed Olympiacos Piraeus (tip-off: 8 p.m.). Bamberg won its earlier home encounter against the Greek club by 82:68.