Bamberg
Brose Bamberg strolls to victory over league newcomers Jena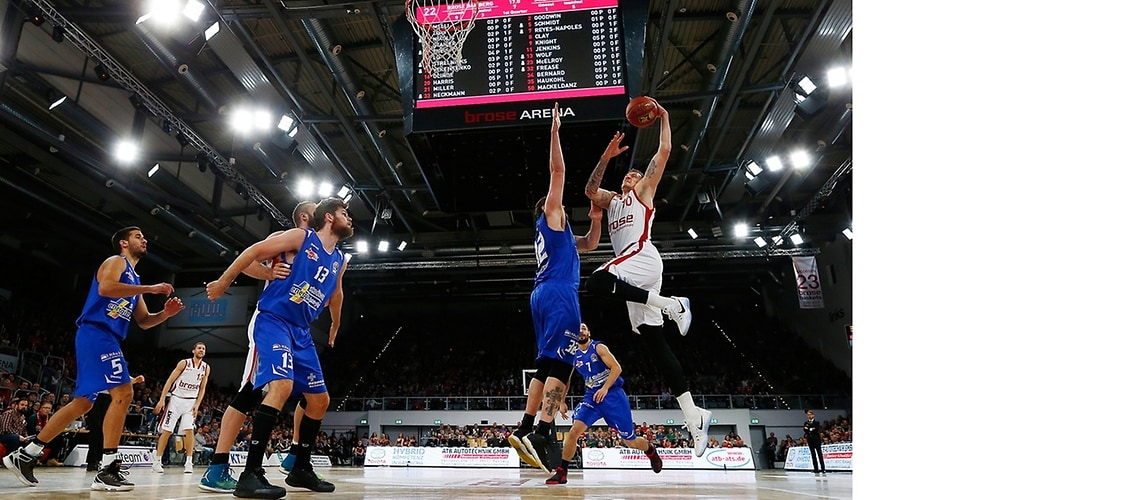 Bamberg, 2016-04-12
The German champions Brose Bamberg comfortably won their home game against the ambitious newly promoted club Science City Jena by 79:54. Head Coach Andrea Trinchieri was able to rest many of his key players in a pretty one-sided encounter, yet even then the winner was certain from fairly early on.
After the tough and energy-sapping game against title-holders CSKA Moscow in the Euroleague, Trinchieri left Fabien Causeur and Leon Radosevic out of the squad so that they could rest, while veteran Nikos Zisis only played the first five minutes. However, Jena was without its second-best scorer, former Bamberg player Julius Jenkins, through a toe injury.
At least in the opening minutes, the visitors tried to surprise the German champs. The ex-Baunach player Marcos Knight, currently the German league's top scorer with an average of 21 points, added five points in the first three minutes to give his side a 7:4 lead. However, Bamberg did not let that shake it – and instead boarded up its basket for the next seven minutes of the first period. Whereas Jena only added six points in the remainder of the quarter, just about every Bamberg player got on the scoresheet: Elias Harris with a slam-dunk, lay-up and free throw, Janis Strelnieks with a bucket from beyond the arc, Vladimir Veremeenko (who had recovered from his back injury) with a lay-up, and Nicolo Melli and Aleksej Nikolic with many free throws gave the home side a double-digit lead (22:11). Bamberg's top scorer, the German international Maodo Lo, made a strong mark in the second period and helped his side take a comfortable 44:27 cushion in with it at half-time with nine out of his 14 points.
After the break, the home side kept on stretching the gap, even though Head Coach Trinchieri rested his top scorers in the league to date – Nicolo Melli, Janis Strelnieks and Darius Miller – on the bench. Maodo Lo continued to dictate the rhythm as playmaker, while Elias Harris (9 points) and Patrick Heckmann (11) extended the lead to 20 points (57:37). Daniel Theis (9 points) dominated below the basket and was Bamberg's best rebounder, snapping up ten loose balls. Because the home side rested its key players, it was able to chalk up a great statistic: 53 of its 79 points came from German players, since Lucca Staiger also added eight points and the talent Louis Olinde two.
Andrea Trinchieri commented: "Jena and our team have different goals for the season. My team had a good attitude. I'm very satisfied with our defense. Our bench players slotted in well and so we were able to rest our veterans."
Before its top-of-the-table duel against Ratiopharm Ulm next Sunday, December 11, 2016, Brose Bamberg travels to Maccabi Tel Aviv in the Euroleague on December 7, 2016 (tip-off: 6:45 p.m.).