Bamberg
Brose Bamberg sweeps FC Bayern aside in the Brose Arena by a 31-point margin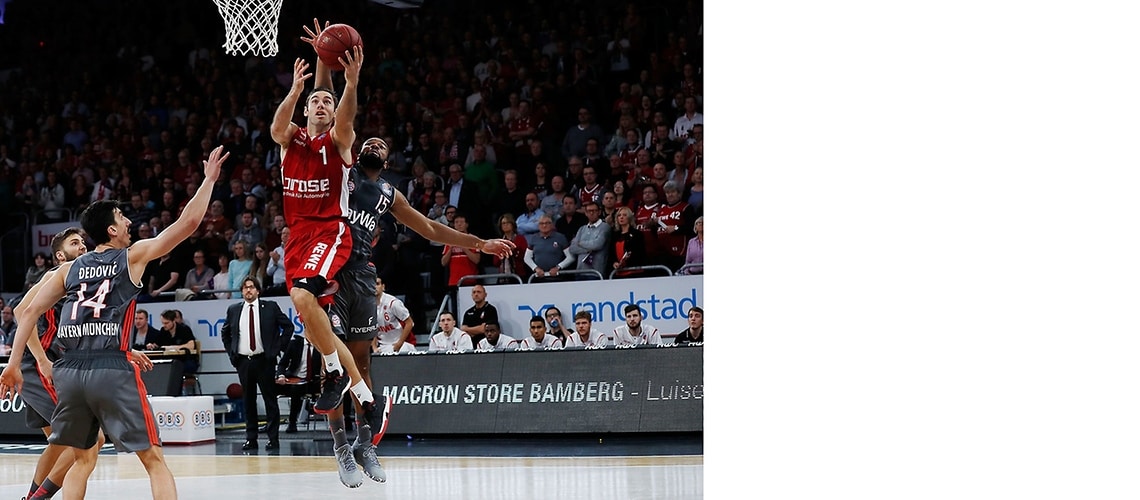 Bamberg, 2016-06-11
What a crazy game and what an emphatic display! German champions Brose Bamberg outclassed their challenger and arch-rivals FC Bayern Munich in the easyCredit German Basketball League by the towering margin of 90:59. The third-placed club from the Bavarian capital came to the Brose Arena with an undefeated record, but the team of Head Coach Andrea Trinchieri was superior in all departments at the weekend and deservedly won by such a wide gap.
It was just five months since the 3:0 clean sweep, when Trinchieri's players took FC Bayern apart in the playoff semi-finals. Since Munich's humiliating 65:96 defeat in the third game of the semi-final, the club has shaken up the entire team and vowed to pursue the German champs hotly in the chase for the title. Whereas FC Bayern did not have a midweek game in the Eurocup and had eight days to prepare for the encounter between two top teams in the German league, Trinchieri's players only had a two-day breather after their gigantic Euroleague win over Milan in overtime. And Bamberg had to overcome a shock: In training on Friday, captain Elias Harris (27) suffered a meniscus injury that was so serious that he will be operated on this week and be missing for weeks. Yet the performance by Trinchieri's players on the Sunday despite these bad omens was an emphatic message to the challenger from Munich.
From the very first minute, Bamberg displayed superlative defending and, after going 6:5 ahead, prevented Bayern from scoring anything for five minutes and surged into a double digit lead (15:5) in the 9th minute. Although the visitors briefly reduced the deficit to 20:16, top scorer Fabien Causeur in particular struck back and conjured up his entire repertoire against Bayern in the first half: a quick drive to the basket, three buckets from beyond the arc in succession from all situations, and a great eye for his teammates. The French player notched up 14 of his 17 points in the first half and, together with Maodo Lo and Nicolo Melli (13 points), was one of the main factors why his side went in at half-time leading by 43:29.
And after the break, Bamberg was very effective in preventing any comeback by FC Bayern: Trinchieri's players tightened up their defense below the basket, blocking simple lay-ups by Munich and so robbing the visitors of any confidence they had. The home side kept on stretching the lead, also because its young German players played very strongly: Patrick Heckmann made 11 points, three blocks and six rebounds, while playmaker Maodo Lo mercilessly played Bayern's defense dizzy time and again on his way to a haul of 16 points.
Andrea Trinchieri commented: "We defeated a very good team that was unbeaten up to now. We operated with a lot of energy and cleverness, read the game well and usually reacted correctly and quickly. My team helped each other and produced good moves. We blocked eight shots and everyone scored. I'm very happy about Maodo Lo. Adapting to European basketball isn't easy, but he's very willing to learn. He played really very well today."
German champions Brose Bamberg's next game is on the road in the Euroleague on Thursday, November 10, when they face Darussafaka Dogus Istanbul, the team of their former player Brad Wanamaker. The tip-off is at 6 p.m.