Würzburg
Brose Baskets celebrate highest win on the road in playoff history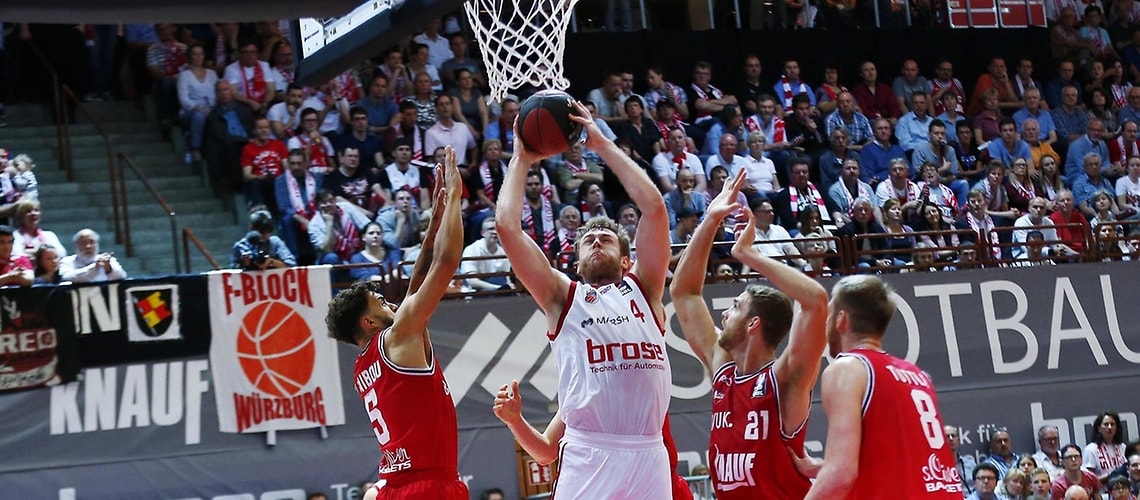 Würzburg, 2016-12-05
Brose Baskets have written history in the Beko German Basketball League: the team of Head Coach Andrea Trinchieri broke its own record, which it set in the first season that Bamberg clinched the championship title, in impressive fashion yesterday in the s.oliver Arena in Würzburg and posted the highest away win in the history of German league playoffs to best its 88:56 victory in the fourth semi-final game in Gießen in 2005. Brose Baskets beat that mark comfortably by five points and trounced s.oliver Baskets Würzburg by 108:71.
Going into the game, the visitors had expected tough resistance from Würzburg, since their local rival from Lower Franconia wanted to exact revenge in front of its own fans for the 41-point thrashing (54:95) from the first game. Yet from the very first second, Brose Baskets stifled any response from the home side, which had gained promotion back to the top flight last season, again with very strong defending that prevented the other side from getting in any easy shots. And in attack, the German champions played cat and mouse with Würzburg's defense thanks to their fast combination play – a lay-up and bucket from beyond the arc by Nicolo Melli, then a lay-up from Leon Radosevic made it 7:0 after two minutes, forcing s.oliver's Head Coach Doug Spradley to call the first timeout. A slam-dunk plus bonus free throw by Radosevic, plus a three from Nikos Zisis, made it 13:0 after 3:30 minutes, by which time it was clear how the playoff evening would go. Although Würzburg now scored points, it was not able to produce a run as a result of the merciless defense by the German champs: Spradley's players scored twice in succession just once. The upshot: Trinchieri's team pulled further and further away with almost every attack. 33:18 after the first period, 53:29 at half-time – by when Zisis, Strelnieks, Harris and Melli had already bagged a double-digit haul for Bamberg.
A striking aspect of the two playoff games so far: unlike in the regular season, when they were also in action in the Euroleague, Brose Baskets did not ease up after leading by such a clear margin at half-time, but continued to impose their basketball, hardness and pace. Although Würzburg was able to score 25 points in the third quarter, Trinchieri's players simply amassed a further 36 to pull away to 96:55 in the 34th minute – also thanks to top scorers Janis Strelnieks (19 points), Nikos Zisis (17) and Nicolo Melli and Elias Harris (15 each).
Andrea Trinchieri commented: "We were very focused and had a good start. We moved the ball very well again in attack. After we went 13:0 ahead, I had the feeling that we were in control of the game. Our first period was very good and set the tone for the rest of the game. We never let Würzburg produce more than a five-point run and that's very important in a game on the road. We controlled the game with solid and effective defense and good movement of the ball."
The third game in the playoff quarter-finals against s.oliver Baskets is on Whitsunday, May 15, 2016. Brose Baskets now lead 2:0 and can book their ticket for the semi-finals with another win.