Bamberg
Brose Baskets stroll to victory in opening game of the playoffs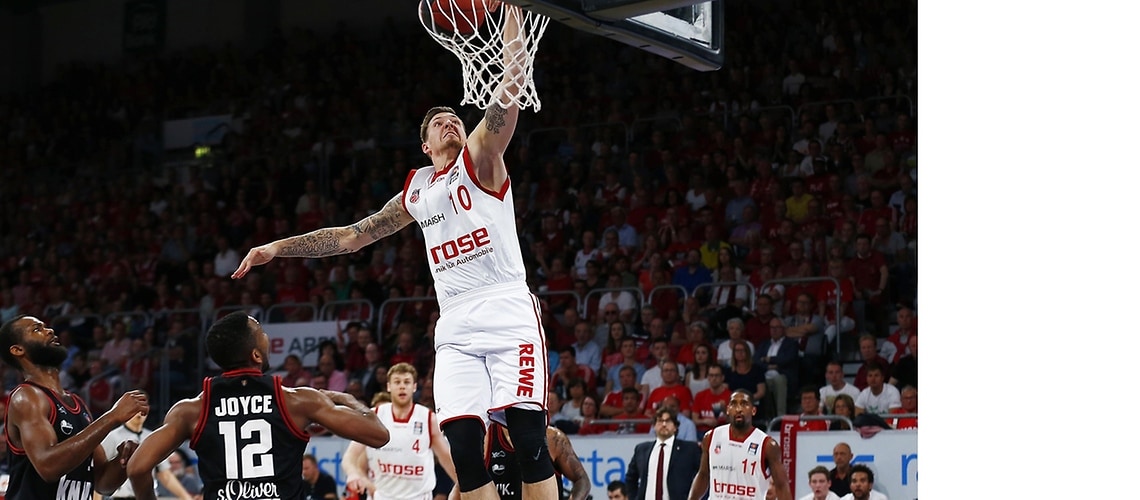 Bamberg, 2016-08-05
That was a show of force: Brose Baskets have got off to an impressive start to the 2016 playoffs in the Beko German Basketball League. The German champs swept aside s.Oliver Baskets Würzburg, their local rivals from Lower Franconia, by 95:54, constantly extending their lead from the outset in an encounter where they did not display any weakness for a single minute.
After a number of games in which Bamberg's Head Coach Andrea Trinchieri repeatedly gave his key players a rest, Brose Baskets fielded their best lineup and embarked on the playoffs at the top of their game. In front of 6,800 inspired fans, the home side defended aggressively, making it as difficult as possible for Würzburg to score, and at the other end was always able to find a free man with its fast passing. Leading 7:2 and then 14:7, Trinchieri's team chalked up its first double-digit lead after eight minutes through a bucket from beyond the arc by Lucca Staiger (21:9). In particular, Elias Harris (six of his 14 points) and Janis Strelnieks scored reliably in the first period. In the second quarter, Darius Miller came into his own, bagging fourteen out of his total haul of 16 points and draining all five shots, including four threes, without missing a single one. The upshot was a run of 14 points without reply by the home side, which was able to surge 45:20 in front shortly before half-time, although Würzburg did reduce the deficit to 48:26.
After the break, the visitors got better into their stride in offense and, after just 26 points in the first half, were able to put 20 on the board in the third period. However, the German champions from Bamberg, now led again by top scorer Brad Wanamaker (19 points), kept on stretching their lead, adding 27 points in the third period to move 75:46 ahead. Würzburg's play now became rougher: Patrick Heckmann got an elbow in the face while making a block and Janis Strelnieks limped off court after a tough tussle. However, its more physical play did not intimidate Brose Baskets – on the contrary: Nicolo Melli, Patrick Heckmann and Daniel Theis blocked several shots at their own basket and the visitors were only able to add three successful shots for a total of eight points in the final period. Unlike Bamberg: whether Daniel Theis or Nicolo Melli under the basket or Lucca Staiger (9 points) with a three from way out – the home side buried its shots. A 95:54 win by a margin of 41 points in a playoff game – there was almost a gulf separating the teams.
Andrea Trinchieri commented: "We're 1:0 up in the series. We were well prepared for this game. The 28 assists indicate a good team performance. I'm also very happy with how we defended. We've taken the first step. Now we'll focus on the next game in Würzburg."
Brose Baskets now face the second game in the playoff quarter-finals against s.Oliver Baskets on Thursday, May 12, 2016 (tip-off: 8 p.m.).