Monaco
Christian Engelhart gets into the points in Monaco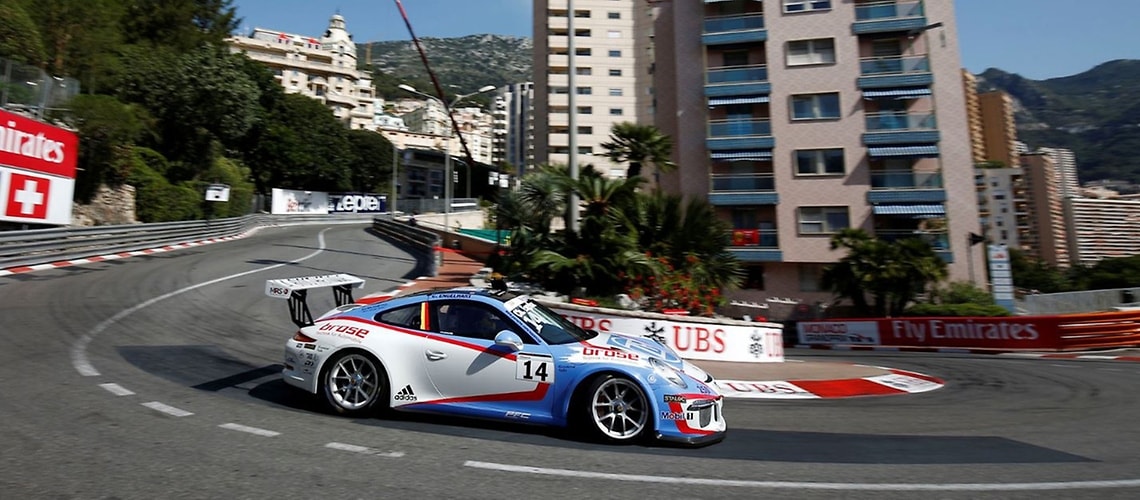 Monaco, 2016-29-05
As if the city circuit of Monaco were not tough enough, the race as part of the Formula 1 event last weekend subjected Christian Engelhart to a further challenge. He nevertheless mastered it and returned to Bavaria with important championship points under his belt.
There were constant indications that Monaco 2016 would not be an easy weekend of racing. On the Friday, pilots had problems on the principality's city circuit in their Porsche 911 GT3 Cup. The conditions were still dry at that time.
Christian was able to clock the fourth-fastest time in training and the sixth-best in qualifying. "I could definitely have posted a better time in qualifying. However, I had to brake due to an accident on the track and that made me lose time. Qualifying at Monaco is always a bit of a lottery every year due to the lots of traffic and numerous accidents. I unfortunately didn't have any luck on my best lap."
The Sunday of racing in the principality was overshadowed by rain. The cars had hardly lined up on the grid than it began to bucket down again. The stewards decided that the race would start behind the safety car. That avoided the possibility of a crash at the start of the race, but also robbed Christian of the chance of improving his position. "Of course, it's a difficult decision to call under these conditions. Sure, I could have moved up the field at the start, but the stewards played safe in view of the track conditions."
The weather conditions affected the further course of the race and so made an early mark on its outcome. "Such a race in the rain isn't easy – especially on Monaco's roads, which are otherwise open to public use. You have to drive with 100% concentration over all 16 laps. That's why my strategy was very clearly geared toward safety, especially since it's as good as impossible for anyone in the leading group to overtake each other here."
That ultimately paid off: Christian crossed the line in sixth, picking up twelve important championship points. The Monday afterwards, his complete focus will be on the upcoming weekend of racing in the Lausitz region. The pilot from Kösching will then line up for two races in the ADAC GT Masters and two in the Porsche Carrera Cup Germany. We'll keep our fingers crossed for him.