Barcelona
Christian Engelhart wins the championship in Barcelona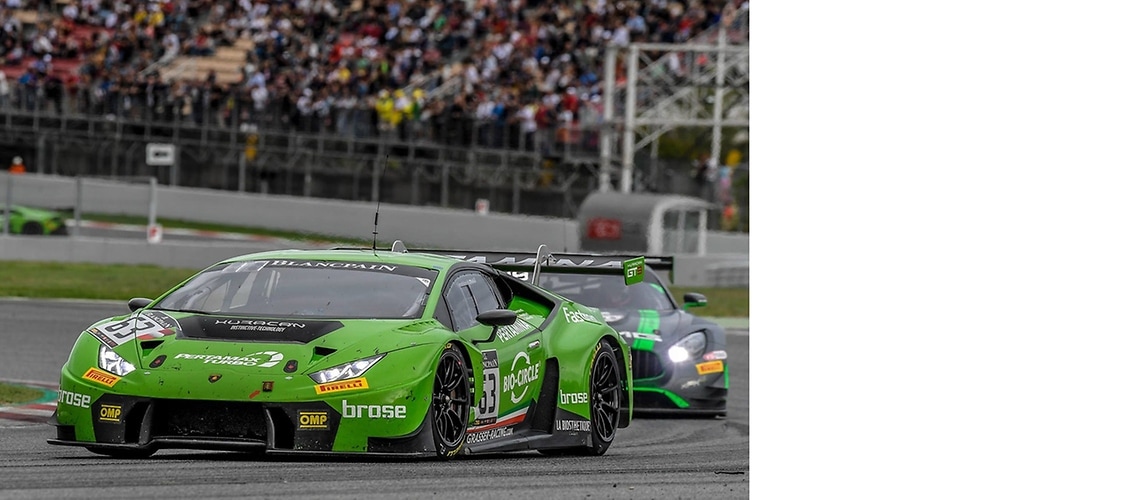 Barcelona, 2017-01-10
Christian Engelhart has won the title in the world's most prestigious and toughest championship – the Blancpain GT Series – with the Grasser Racing Team in Barcelona. Alongside Mirko Bortolotti and Andrea Caldarelli, he captured the drivers' title in the Europe-wide sports car championship and also the title in the manufacturers' championship for his GRT team. The 30-year-old, who was appointed as a Lamborghini works pilot only at the start of the year, has thus fully lived up to the expectations placed in him and can look back on an extremely successful 2017 season of racing.
"It's great to end the season with a place on the rostrum," said Christian on the Sunday evening, yet the third place in the Barcelona 3 Hours made only a small contribution to the great triumph for the Grasser Racing Team – because the Lamborghini team from Styria also captured far more valuable trophies.
Barcelona was the scene of the season's finale in the Blancpain GT Series last weekend. More than 50 super sports cars lined up to determine who was Europe's best GT3 pilots of the year in a final 3-hour race. However, the Grasser crew held all the trump cards, since it led in both the drivers' and manufacturers' championship. The team and drivers were therefore well prepared coming to the track and embarked on qualifying with their sights set on the mission of winning the title – and Engelhart in Q2 and Bortolotti in Q3 clocked the fastest and second-fastest lap respectively. The piercing green Lamborghini Huracan GT3 thus started from the front row.
However, the start did not go as desired. The team initially had to contend with problems with tire temperature and at one stage was only in 9th. Yet the quick pit stop by the GRT crew and a number of great overtaking maneuvers put the number 63 back on track. Christian's teammate Mirko Bortolotti finally had the honor of driving the car home in third to secure the great triumph. Engelhart/Bortolotti ultimately captured not only the overall drivers' title together with Andrea Caldarelli, but also victory in the Endurance Cup, a special championship for long-distance races. Team principal Gottfried Grasser was especially pleased to win the manufacturers' championship.
Christian Engelhart: "Barcelona was a perfect end to the season. We achieved our ambitious goals together. I'm over the moon, proud and simply grateful. I thank Gottfried Grasser (GRT) and Giorgio Sanna (Lamborghini Squadra Corse) for the trust they put in me, my teammates Mirko Bortolloti and Andrea Caldarelli for the professional working relationship, and all partners for their support throughout the year. With four wins in the Blancpain GT Series and numerous placements on the rostrum, we always got the most out of our Lamborghini."