Bad Aibling
Crucial road victory for BBC COBURG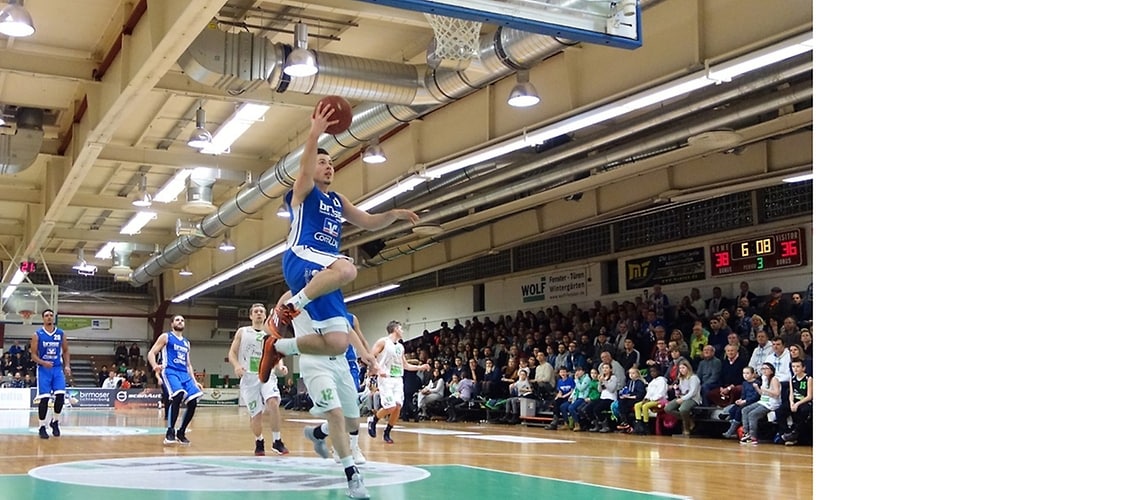 Bad Aibling, 2017-14-01
In an epic top-of-the-table clash between fellow 1. Regionalliga newcomers TuS Bad Aibling Fireballs and BBC COBURG, the guests from Upper Franconia came away victorious on Saturday evening. The hard-fought 76-69 (32-32) win at the Bad Aibling Firedome allows BBC to reclaim sole possession of the second spot in the rankings while remaining tied for first place with a 13-2 record.
In the first half, both teams exchanged blows similar to heavyweight boxers in a title bout. A fiercely contested and extremely physical first twenty minutes saw six lead changes and eight ties. While the hosts mainly relied on their notorious accuracy from three-point land, BBC COBURG tried to consistently pound the ball inside.
Midway through the third quarter, the pendulum seemed to swing in favor of the home team. Fireballs sniper Claus Weiss connected on back-to-back triples and the lead ballooned to seven at one stage. It was Steffen Walde's dribble-drive penetration that kept the visitors in the game during that difficult stretch. The athletic wing, who scored a game-high 21 points, either went all the way to the basket or was sent to the free-throw line where he converted five of eight attempts.
Momentum shifted early in the final stanza when Coburg head coach Simon Bertram turned to a small-ball line-up featuring Fabian Franke at center, Jordan Burris at the 4 and a three-guard backcourt of Kevin Eichelsdörfer, Eividas Molosciakas and the aforementioned Walde. After forcing a TBA turnover, a visibly annoyed Burris took out his frustration over what had been a rough evening so far on the rim with a ferocious throwdown. When on the next possession Eichelsdörfer calmly knocked down a long-range bomb in transition for a seven-point BBC lead, the home crowd fell silent after having witnessed a 14-point turnaround.
The Fireballs would not go away and mounted another comeback, but when Molosciakas (14 points) finished another fastbreak with a layup and Burris (17 points, 14 rebounds, 5 steals) added five more points with a trifecta and a putback, approximately 50 raucous BBC supporters knew that a road win with huge implications for the title race was in the books.
After the final buzzer, Coach Bertram sang the praises of his troops: "Today we proved our naysayers wrong and showed that we are clutch, after all. We adjusted to in-game developments very well and displayed tremendous poise and character coming back from a substantial deficit."
BBC COBURG have a bye next weekend before traveling to MTSV Schwabing on January 28.