Sulingen
Dinkel captures third podium placement in his third race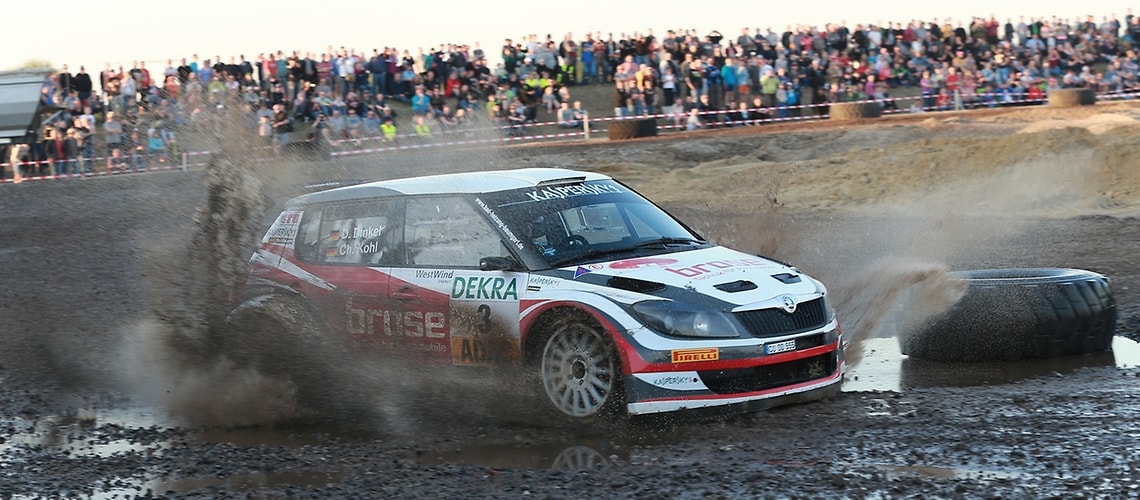 Sulingen, 2016-08-05
101 participants lined up for the third race in the German Rally Championship around Sulingen in marvelous weather last weekend.
Thanks to their outstanding results – third place in Saarland and second at the Vogelsberg Rally – Dominik Dinkel and Christina Kohl started in second place in the 2016 German Rally Championship. A total of 13 trials over 134 kilometers were on the agenda.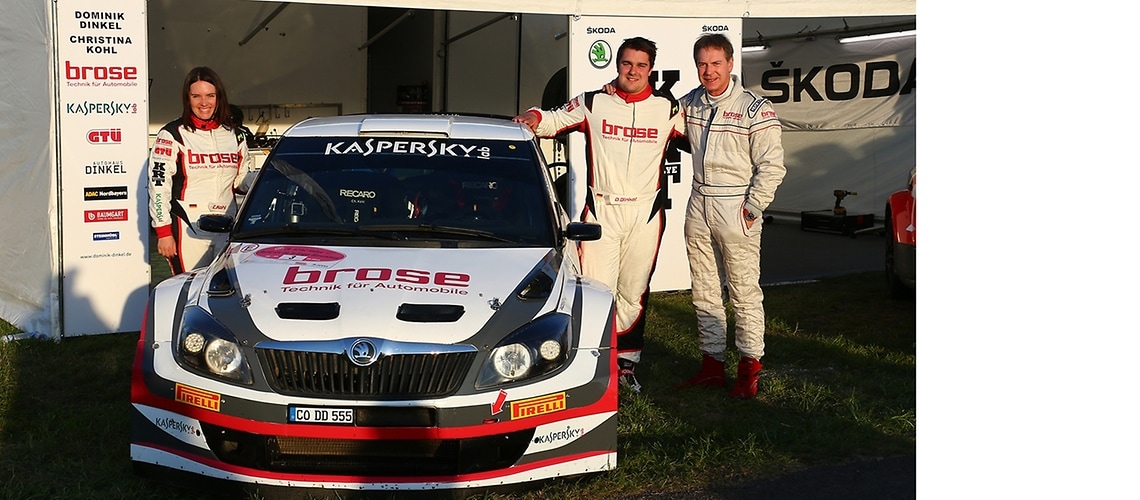 Michael Stoschek (Ahorn), FIA Historic European Champion in 2006, also competed along with Dieter Hawranke (Kassel) in Sulingen in a 2.5-liter Porsche 911. However, gear damage forced the Brose Motorsport team to retire from the race on the second day.
Things went well for Dinkel/Kohl from the outset: they clocked the fourth-best time on the first trial and were just 7.5 seconds behind the leaders Fabian Kreim and Frank Christian in a Skoda Fabia R5. The subsequent 4.3-kilometer circuit in Sulingen was designed more with the spectators in mind: they were able to admire the participants from close up. Just 10 seconds separated the top seven in this small arena. Dominik Dinkel and Christina Kohl posted the third-best time and so were fourth in the overall standings.
Dominik Dinkel and Christina Kohl also captured fourth place again on the first trial the next morning. Next up was the "Steyerberg" trial, the military training area with its high curbs, where the drivers could not afford to let their attention slip for a second. Despite brake problems, Dinkel/Kohl managed to finish 7 seconds ahead of teammates Neuville/Heigl. As a result, they moved up into third overall.
Dominik Dinkel's brake problems were rectified by the service team, enabling him to clock the second-fastest time on the sixth trial, just two seconds behind Kreim.
Dinkel and Neuville, like the two leaders, fought fiercely for a place on the rostrum. Both were level on time in third on the eighth trial. They did not give each other an inch until the last trial "Wedehorn." It was only when Yannick Neuville made a sortie into a cow field that he was forced to concede defeat. Up to them the two were just 3.4 seconds apart after 10 trials over almost 100 kilometers. On this last trial, Dominik Dinkel secured a special point for the championship standings by posting the third-best time, despite tires that were losing their grip significantly. The excellent result meant Dinkel/Kohl likewise held on to second in the championship.
Championship standings after 3 races:
1st place: Christian Riedemann/Lara Vanneste 66 points
2nd place: Dominik Dinkel / Christina Kohl 49 points
3rd place: Fabian Kreim / Frank Christian 48 points
4th place: Yannick Neuville / Jürgen Heigl 22 points
5th place: Georg Berlandy / Peter Schaaf 18 points