Zwickau
Dinkel fails to capture any points in Saxony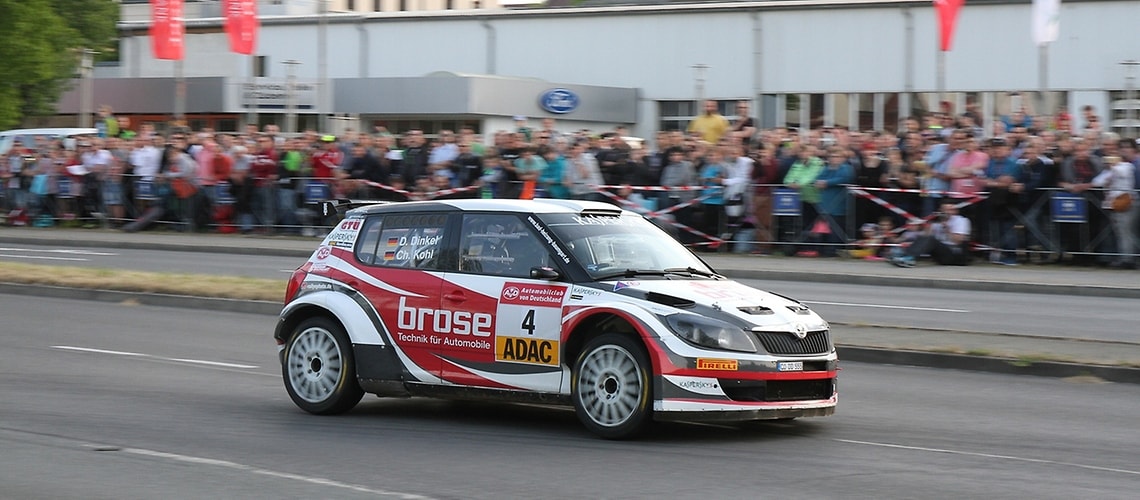 Zwickau, 2016-22-05
Dominik Dinkel and co-pilot Christina Kohl had set themselves a clear goal for the Saxony Rally: To win second place in the overall rankings.
Dominik Dinkel and Christina Kohl got off to a cautious, but fast start in the event on the Friday evening. Without taking any unnecessary risks, they twice completed the "Hirschfeld" trial and the legendary city circuit in Zwickau, the "Luck on the Bridge" trial. As in all past years, it was lined by countless spectators. The two ended the first day in fourth place overall, closely followed by their teammates Yannick Neuville (Belgium) and Jürgen Heigl (Austria). That was a great result in view of the fact that Brose Skoda S2000 does not have as much power as the R5 cars of Riedemann and Kreim and, of course, the Porsches in the field.
On the Saturday, 103 kilometers of trials had to be driven in best time. With a good springboard from the previous day, Dinkel embarked on the first trial of the day over 10.28 kilometers, all of it on asphalt. The pilot from Rossach was able to defend his fourth spot against the strong competition on the first two trials. However, the gearbox of the Skoda Fabia began to have trouble around midday. The service crew tried to limit the damage during the short repair break before trials seven and eight. Things went better to start with, although the problem was not fully rectified. Nevertheless, Dinkel was able to clock fast times and hold on to fifth place. The ninth trial also went well and Dinkel/Kohl were able to reduce the gap to Neuville/Heigl to five seconds. However, an aluminum fixture on the cooling circuit broke on the tenth trial and they had to retire the S2000 so as not to risk causing even greater damage.
The goal is now to prepare the S2000 ideally for the Stemweder Berg Rally. Dominik Dinkel and Christina Kohl aim to go back on the attack at the upcoming rally in North Rhine-Westphalia. The event's route suits the Pilot from Rossach. With its very selective and challenging trials, some of them on gravel, Dinkel can again display his talent to better advantage.