Erlangen/Nuremberg
Erlangen draws against TV Hüttenberg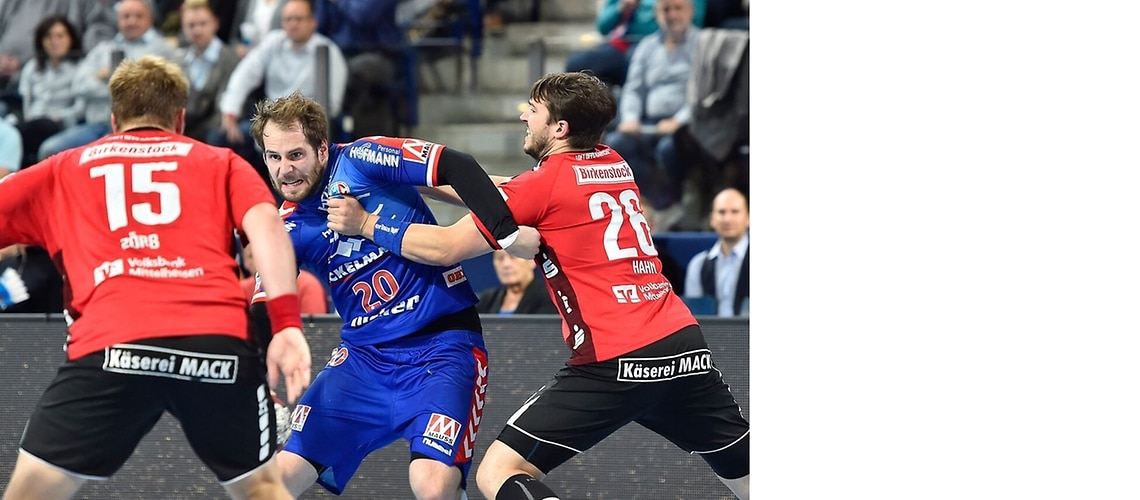 Erlangen/Nuremberg, 2017-21-09
HC Erlangen drew 26:26 against TV Hüttenberg this evening. The point means the team of Head Coach Robert Andersson is now 11th in the DKB German Handball League going into the game on the road against current leaders TSV Hannover-Burgdorf in a week's time.
Robert Andersson started with the same lineup at the ARENA NÜRNBERGER Versicherung as in the away at last season's runners-up Flensburg last week. The Swedish head coach only made one change: In the center position, where Nico Büdel directed matters against newly promoted Hüttenberg, who defended extremely offensively. The first-division club from Franconia got off to a decent start, Gorazd Skof in goal was able to directly save a number of shots from the side from Hesse, and the players led by captain Michael Haaß also played out their attacks thoughtfully. However, the HC then had increasing problems in scoring. It squandered open shots – and it was thanks to agile defending that the home side went in ahead at half-time.
Right after the break, HC Erlangen was able to pull away by three thanks to two goals in succession. It was in this spell that HC Erlangen had its first opportunity to wrap up the game. Yet after thoughtfully executed attacks, the home side was again unable to bury the ball in the net on several occasions against the visitors' strong keeper. Shortly before the end, Skof stopped a seven-meter penalty with his team leading by one goal and then TV Hüttenberg staked everything on one card in the final minute by adopting man-to-man covering. Jonas Link hit the bar, Christoph Steinert snapped up the rebound, but the team of referees awarded an offensive foul to the astonishment of the more than 3,300 spectators in the ARENA. The visitors capitalized on that to go up the other end and score. HC Erlangen thus shared the points with the strong league newcomers from Hüttenberg after a 26:26 draw, but now aims to pick up the lost point again in Hanover this Thursday.
Robert Andersson commented: "We simply missed too many chances in offense today and failed to capitalize on the openings we created."