Nuremberg
ERLANGEN LOSES TO THE GERMAN CHAMPIONS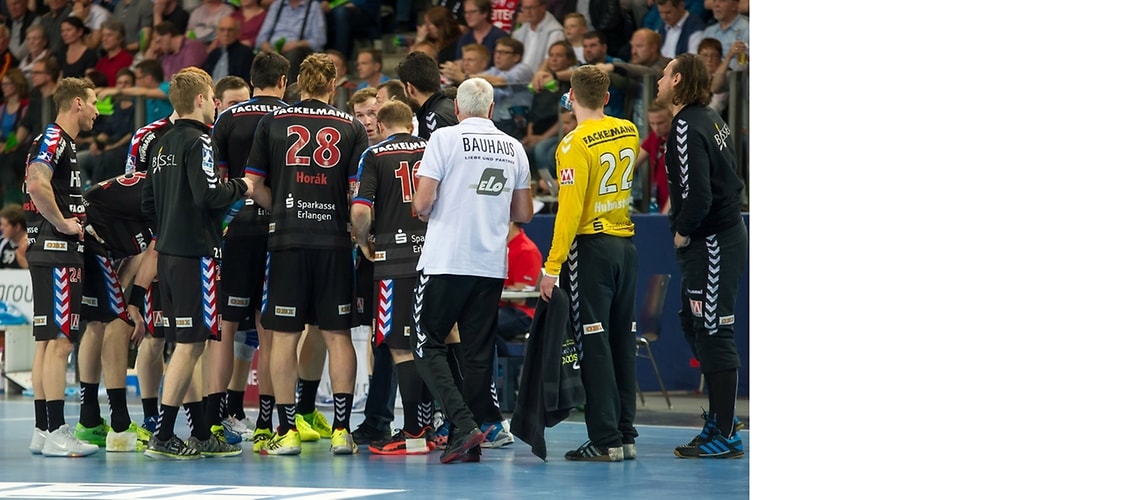 Nuremberg, 2017-30-04
HC Erlangen lost its home game against the reigning German champions Rhine-Neckar Lions by 26:37 (13:19) this afternoon. Despite the defeat, the team of Head Coach Robert Andersson remains ninth in the DKB German Handball League.
The scene was set in the Nürnberger Versicherung Arena. Almost 7,000 fans from Franconia did not want to miss the tussle between Erlangen, which was newly promoted at the end of last season, and the German champs from Mannheim. HC Erlangen was unchanged from the win over FRISCH AUF! Göppingen and came out as if the other side did not have any Olympic or world champions in its ranks. Spurred on by an extremely strong Jonas Link, the first-division club from Franconia managed to dominate the opening ten minutes and set the ARENA alight. A timeout by Nikolaj Jacobsen interrupted the home side's assault and got the Rhine-Neckar Lions into the game. The German champions struck back with their lightning-paced play and an extremely agile Andy Schmid. Mannheim repeatedly capitalized on the mistakes it forced Erlangen to make and pulled steadily away goal by goal. As a result, six goals separated the teams at half-time.
After the break, the HCE showed that it wanted to put up a tenacious fight in front of its still boisterous home crowd. Erlangen kept on reducing the gap, but was not able to overcome the individual class of Rhine-Neckar Lions. The German champions made it clear that they wanted to defend its title and did not show any weakness in Nuremberg. In the end, the crowd celebrated a fighting display by the league newcomers from Central Franconia, who can embark on the final six games of the season full of pride.
Robert Andersson commented: "Rhine-Neckar Lions left no doubt today that they want to become German champions again. But my team never gave up and put up stiff resistance right to the end."