Nuremberg
Erlangen tames Bergische Lions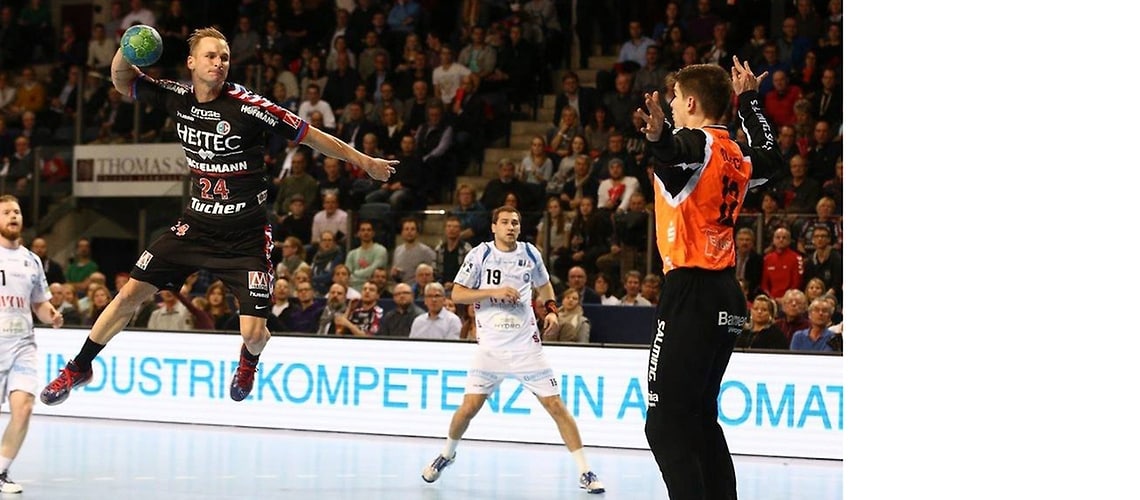 Nuremberg, 2016-19-11
HC Erlangen won its home game against Bergischer HC in impressive fashion by 35:26 (16:10) this evening. The team of Head Coach Robert Andersson thus captured two important points in the battle to avoid relegation and is currently 11th in the German Handball League.
It was palpable before the game in the Nürnberger Versicherung Arena that something more was at stake. The tension among both teams could be clearly felt before the throw-off – after all, two extremely important points were up for grabs in the tussle to remain in the top flight. As always, HC Erlangen was excellently prepared for its opponents and so its fans were able to feel a bit more reassured from the outset. After just seven minutes, the league newcomers from Franconia had opened up a five-goal gap against the visitors from North Rhine-Westphalia. Bergischer HC never really found an antidote to the home side's extremely offensive 5-1 defense and so trailed by a wide margin from very early on in the encounter. Fired on by more than 4,000 Franconian handball fans, the HCE never lost its focus, carved out good shooting opportunities as in the previous games and this time clinically took them. It also seemed to have completely eliminated the slight technical mistakes of past weeks. A strong Nikolas Katsigiannis (11 saves) and an extremely agile defense ensured that HC Erlangen went in at half-time leading by 16:10.
After the break, it was obvious that the team of Robert Andersson had taken his instructions not to slacken its efforts totally to heart. The great plus point about the home side's performance this evening was its very strong teamwork. It was clear that the HCE wanted to win at all costs. The red card for captain Michael Haaß following his third two-minute penalty in the 35th minute did nothing to change that. His role in directing his side was taken over by Jonas Link, who was able to play without any problems after his torn ligament and scored three goals. HC Erlangen was superior to Bergischer HC in every department on the evening. Fight, passion, efficiency and the unswerving will to win the game meant HC Erlangen grabbed two important points in the battle to avoid relegation.