Frankfurt am Main
Heroes Of Tomorrow lose to SKYLINERS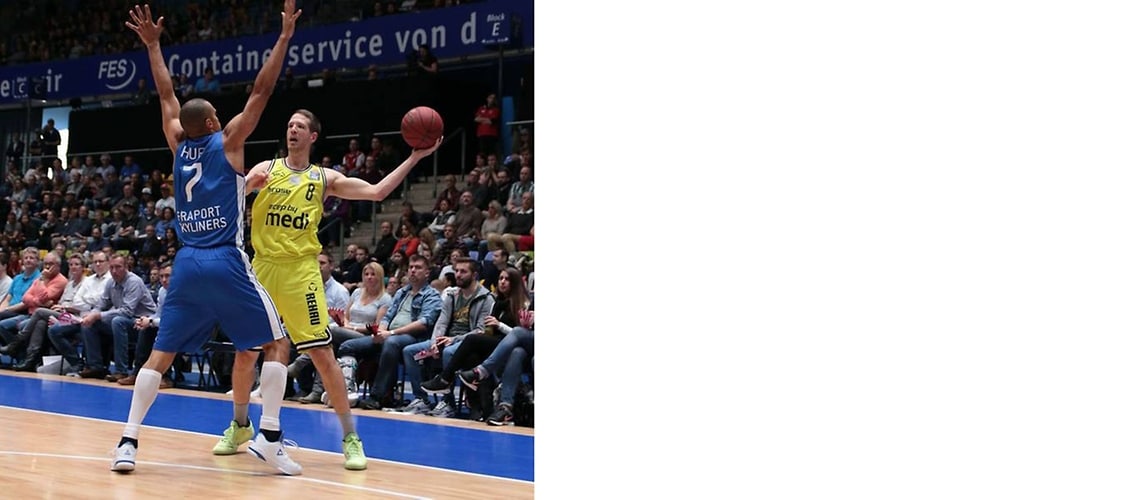 Frankfurt am Main, 2017-22-10
medi bayreuth unfortunately did not manage to reproduce its strong performance against SIG Strasbourg on the European stage. After a good start by the visitors, Frankfurt produced a quick 8:0 run to go 9:4 in front, with Jonas Wohlfarth-Bottermann repeatedly scoring for the club from Hesse. In offense, medi initially had to contend with Frankfurt's aggressive zone defense. Nevertheless, the team of Head Coach Raoul Korner managed to equalize in the eighth minute (14:14). However, the SKYLINERS had the better of the encounter at the end of the first period, which they ended four points ahead.
Frankfurt's top scorer Philip Scrubb put his team further ahead with an important bucket from beyond the arc. John Cox celebrated his comeback in the 13th minute and gave his side an important boost later. Midway through the quarter, Mike Morrison stepped up to the foul line twice after draining his shots and caused Assem Marei to concede his third foul. In this spell, Bayreuth was unable to stop Philip Scrubb in particular. The Canadian player gave the home side its first double-digit lead in the 17th minute. Frankfurt led deservedly at the break because it shot better from all distances and produced fewer mistakes.
It continued to dictate the game after the break, too. Philip Scrubb, whom medi was subsequently able to take out of the game completely, stretched the lead to 20 points in the 23rd minute. However, the momentum tilted Bayreuth's way a little. De'Mon Brooks made his mark and James Robinson drained one of his rare threes to cut the deficit to 52:39. In the subsequent timeout, Frankfurt's Head Coach Gordon Herbert did not find the right words, as the Heroes Of Tomorrow kept up the pressure. Thanks to far better defending, the visitors fought their way back and reduced the gap to just seven points after 30 minutes.
Frankfurt pulled away again by ten points at the start of the final period. John Cox then gave his team new life with his experience. He injected stability, drained tough shots and made a key contribution to enabling the visitors to tie the scores at 65:65 through Robin Amaize. However, medi was not able to turn the game around. In the fiercely contested final spell, the SKYLINERS took their chance to secure a 68:72 victory.