Bayreuth
Heroes Of Tomorrow win Franconian derby against s.Oliver Würzburg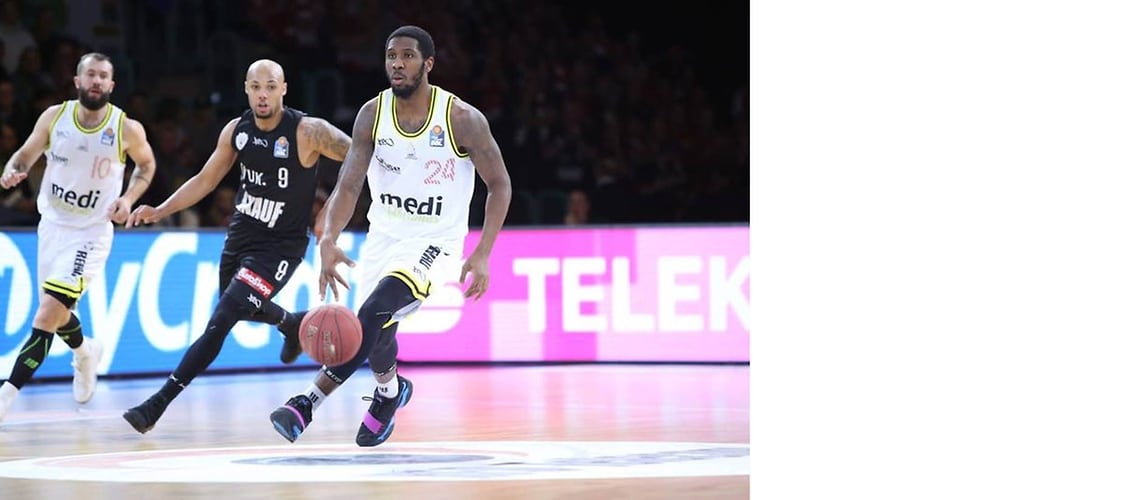 Bayreuth, 2017-02-12
medi bayreuth notched up an 86:80 win in the Franconian derby against s.Oliver Würzburg on the 11th matchday of the easyCredit German Basketball League in front of 3,300 spectators in the sold-out Oberfrankenhalle.
Yet to begin with, it did not look like medi bayreuth would capture its third home win in a row. The visitors from Lower Franconia chalked up a high percentage of shots from outside and took the lead right away with two buckets from beyond the arc by Vytenis Lipkevicius and Maurice Stuckey. Further threes followed to make it 5:18. However, medi slowly got into the game and cut the deficit to 10:20, despite squandering a number of opportunities.
Javon McCrea, on his return to his former club, got the Heroes Of Tomorrow back into the encounter with a display of energy. He first produced two assists, then scored himself to make it 16:22. Two minutes later, the gap was just three points when he added a slam-dunk (21:24). The Heroes Of Tomorrow looked like they had been able to get the game under control when, after Linhart buried two free throws, captain Bastian Doreth drained a three to tie the scores (28:28). However, Head Coach Dirk Bauermann found the right words in Würzburg's next timeout. After five points in succession by Robin Benzing, Würzburg remained ahead and took a 39:35 lead in with it at half-time.
The club from Lower Franconia again profited from buckets from downtown after the break, as Maurice Stuckey and Kresimir Loncar stretched the gap to 49:39. Although Bayreuth's threes also began to drop now, Würzburg's old hand Kresimir Loncar again scored twice from beyond the arc to ensure his side was able to retain its double-digit lead. With one minute left in the period, York's third bucket from outside heralded in a 6:0 run. The deficit going into the fourth quarter was therefore just six points.
The excitement then grew in the final period as media caught up point by point, initially with free throws. James Robinson then reduced the gap to 69:72 with a three to put the Heroes Of Tomorrow back within striking distance. Würzburg was able to extend its lead again, but York put Bayreuth ahead for the first time on the evening (76:75). They were also the last points from the floor in the game, which was then decided from the foul line. The Heroes Of Tomorrow proved they had strong nerves. Five players stepped up to the line – and Bastian Doreth, Andreas Seiferth, De'Mon Brooks, James Robinson and Nate Linhart did not display any vulnerability. The team was now also magnificent under its own basket, not only snapping up important rebounds, but also eventually snatching victory in the derby away from the visitors on the finishing straight.