Bayreuth
Heroes Of Tomorrow win top clash against Berlin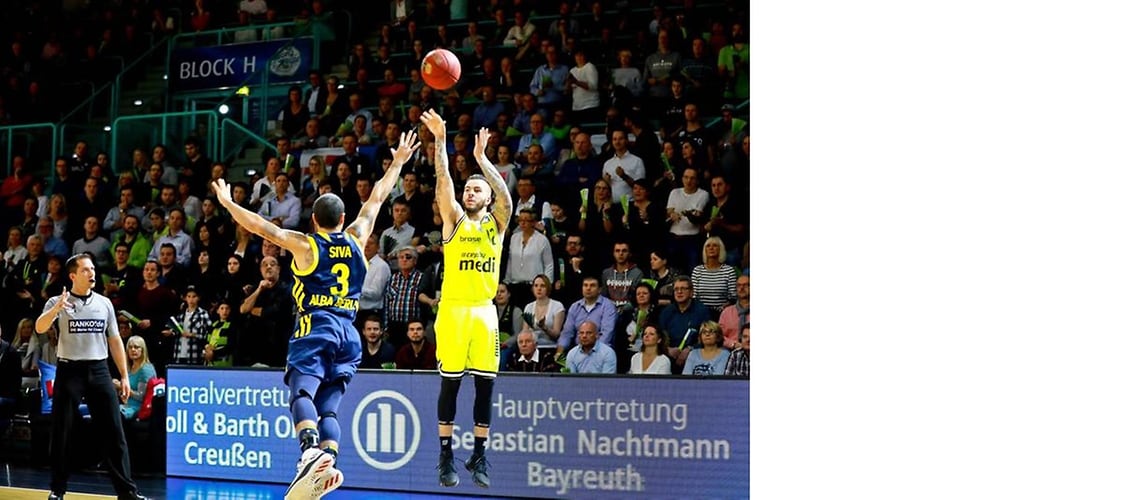 Bayreuth, 2017-11-11
Both teams produced a thrilling top-class game from the tip-off in front of the 3,300 fans. Bayreuth got off to an excellent start. Two buckets from downtown by Gabe York and Nate Linhart opened the scoring – and it was not until midway through the period that ALBA got into the game better and tied it at 10:10 through Spencer Butterfield from beyond the arc. Berlin played very physically and initially had a slight advantage in rebounding under the baskets. The visitors only went ahead twice, the last time being 14:15 through Bogdan Radosavljevic, who twisted his ankle a little later and was not able to continue. James Robinson put his team back in front with three free throws to bring the first quarter to an end (17:15).
Berlin's fans then had to cope with a long barren spell in the second period. After a three by Saibou to make it 23:21, ALBA went more than four minutes without scoring. That was also due to the fact that Bayreuth erected a solid wall of concrete in defense and made it impossible on several occasions for the home side to get in a shot before the 24-second clock ran down. Things became tight again when Akeem Vargas reduced the deficit to 26:27 in the 17th minute. Yet Nate Linhart went down the other end after Bayreuth had called a timeout to extend the lead again. That was followed by further buckets from outside by the U.S. duo York/Linhart, meaning medi even led 38:30 after the second period.
Berlin had what was probably its best spell at the beginning of the second half, when it produced a 10:5 run to reduce the gap to just three points. Yet the Heroes Of Tomorrow were not a bit disconcerted in this torrid phase and gave the right reply with a run to make it 53:45 and keep ALBA at arm's length again. medi led 60:51 after 30 minutes.
Andreas Seiferth gave Bayreuth its highest lead of the encounter in the 32nd minute (64:53). Shortly after that, the center chalked up his double double with a further defensive rebound. Seiferth and the recuperated Robin Amaize put their stamp on the game at the beginning of the final period, in which the lead remained steady to start with. Yet things were to become tight once more. Marius Grigonis played a great part in cutting the deficit to 71:67 with four minutes remaining by scoring five points in a row for ALBA, including a three plus a bonus free throw. However, Andreas Seiferth kept his cool from the foul line and two minutes later Nate Linhart was able to stretch the lead to eight points again (77:69) and as good as seal victory.