Bayreuth
medi bayreuth defeats RASTA Vechta by 96:71 at home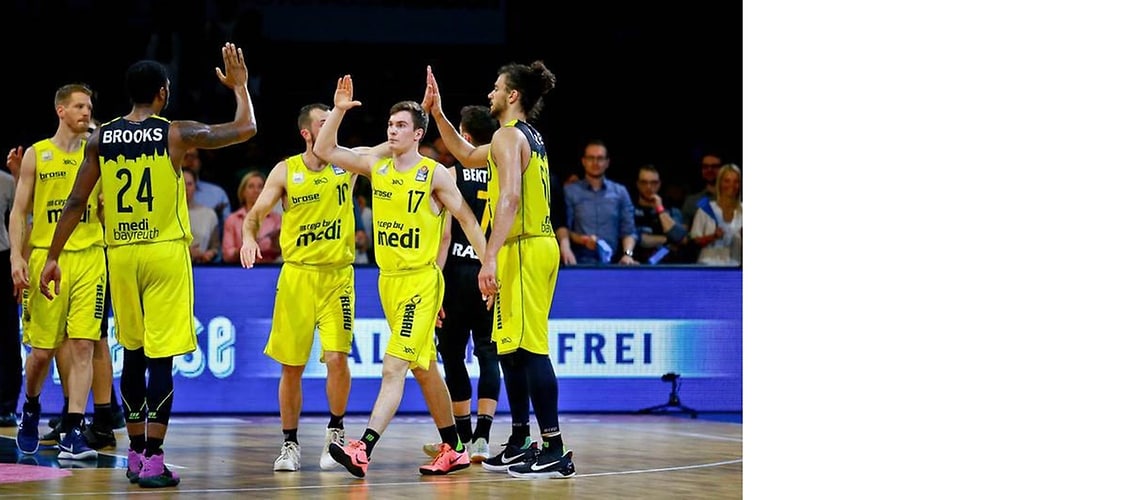 Bayreuth, 2017-01-04
The 3,039 spectators in Bayreuth's Oberfrankenhalle were wholly satisfied after the game of their Heroes Of Tomorrow on the 28th matchday in the easyCredit Basketball Bundesliga after the team of Head Coach Raoul Korner defeated RASTA Vechta comfortably by 96:71 (54:40).
This 19th win of the season means Bayreuth has not only tightened its grip on fourth place in the table, but also almost sealed a spot in the playoffs. medi bayreuth's Managing Director Philipp Galewski added to the jubilation after the game when, together with De'Mon Brooks on the court, announced that the 24-year-old American player had extended his contract.
Brooks was again one of the strongest players on his side in the encounter against the league newcomers from Lower Saxony. The 103-kilogram powerhouse was the game's top scorer with 18 points. A 14-point lead by half-time and two buckets from outside by Trey Lewis and Nate Linhart after the break to stretch the gap to 20 points enabled medi bayreuth to seal victory early on.
Brief summary of the encounter:
RASTA Vechta only put up stiff resistance in the opening minutes. The visitors started with a lot of energy and were able to keep the game up for grabs until Derrick Allen made it 15:12 in the 6th minute. A three by David Gonzalvez and points by De'Mon Brooks put medi 17:15 ahead – a lead it would not surrender. On the contrary: The gap grew to nine points after a three by Anderson (27:18 in the 9th minute).
Robin Amaize then returned from injury in the second period and gave his side its first double-digit lead with free throws (36:25 in the 13th minute), which Andreas Seiferth stretched to 42:28 in the 14th minute with a 3-point play. Vechta struck back again and cut the deficit to five (40:45 in the 18th minute). After a timeout called by Raoul Korner, however, the home side began to tick over better again and produced a run of 9 points without reply to go in at half-time leading by 54:40.
After the break, medi benefited from the visitors' many mistakes, as well as from well carved-out, patient attacks. Vechta had problems under the basket in the face of a solid Bayreuth defense. As a result, the club from Lower Saxony added a meager ten points in the third period, while medi opened up a 26-point gap. In particular, Assem Marei was a great asset under both boards.
A slam-dunk by De'Mon Brooks in the 34th minute gave medi its highest lead of the evening (87:52). Both coaches then brought on players who otherwise do not get a chance to play all that often and so all players who were used in the game also got on the scoresheet without exception.