Würzburg
medi bayreuth ends a sensational regular season with 22 wins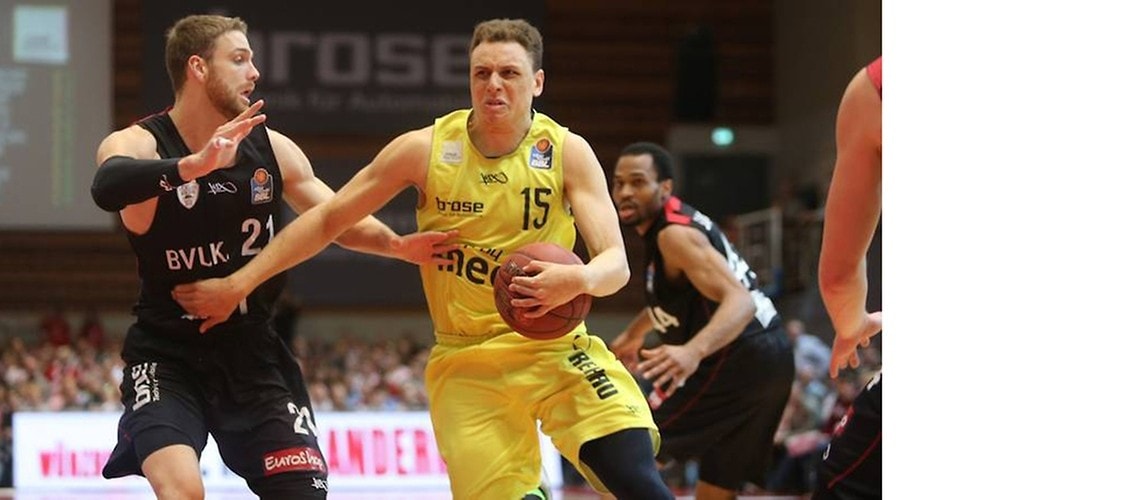 Würzburg, 2017-01-05
The Heroes Of Tomorrow have finished the regular season in the easyCredit German Basketball League with an incredible tally of 22 wins and ten defeats. On the final matchday before the playoffs, which start on Friday, medi bayreuth lost the Franconian derby on the road at s.Oliver Würzburg by 73:82 (38:31).
As in medi bayreuth's home victory over FC Bayern Munich, it was clear from the derby on May Day just how important and even crucial playing at home can be in the easyCredit German Basketball League. The Heroes Of Tomorrow got off to a perfect start against Würzburg thanks to great team play and, leading by 25:11 in the 12th minute, had their opponents totally under control. However, the home side got more and more into its stride from the 13th minute on. And the 13th minute held a shock in store for medi bayreuth as De'Mon Brooks limped off court. The game now become rougher as a whole and suddenly the 3,051 fans in the s.Oliver Arena had woken up and were right behind their team, which managed to get within striking distance by the break. medi bayreuth was able to keep Würzburg at bay until with three minutes to go in the third period, when the 20-year-old Lukas Wank put his side ahead for the first time. A lot of small niggling fouls (there were a total of 60 free throws in the game) characterized the final period, in which Würzburg took control on their home court and was able to turn the tide in its favor – and not undeservedly so.
Whereas Würzburg ended the season as 14th in the table, medi bayreuth's fourth-spot finish means they embark on the playoffs in the easyCredit German Basketball League on Friday, May 5. In the first game of the best-of-five quarter-final series, the Heroes Of Tomorrow face EWE Baskets Oldenburg. The club from Lower Saxony won its final game on the road at Telekom Baskets Bonn to secure fifth spot.
Raoul Korner, Head Coach of medi bayreuth, commented: "Congratulations to Würzburg on its win and strong finish to the season. I'm already fully focused on the first quarter-final game against Oldenburg on Friday. I certainly don't want to detract from Würzburg's performance, but that was definitely also true for some of my players. We're now concentrating right away on the playoffs. Emotions like today are part and parcel of a derby. It was a physical and intense game. But I think we'll have to play with greater intensity in the playoffs."
Dirk Bauermann, Head Coach of s.Oliver Würzburg, noted: "Congratulations to Raoul Korner and medi bayreuth on the magnificent job they've done this season. What he's achieved with this team and his budget deserves the utmost respect. I'd personally like to congratulate him and his team on that. After getting off to a good start, Bayreuth displayed great quality over the whole season and managed to finish among the top four. Of course, you always want to win a derby. But we'll be rooting for our neighbors in the series against Oldenburg. In today's game, we rediscovered our fight and passion from the second period on, after the first period was almost unbearable for me. Something had to change and my players managed to change it. I'm happy and delighted that we've been able to finish the season so positively as we had hoped and expected. Our thanks go to our magnificent fans. There was an atmosphere like in the playoffs again today. Unfortunately, our season's already over. I'm already looking forward to when things get underway again in August."