Bremerhaven
medi bayreuth wins in Bremerhaven after overtime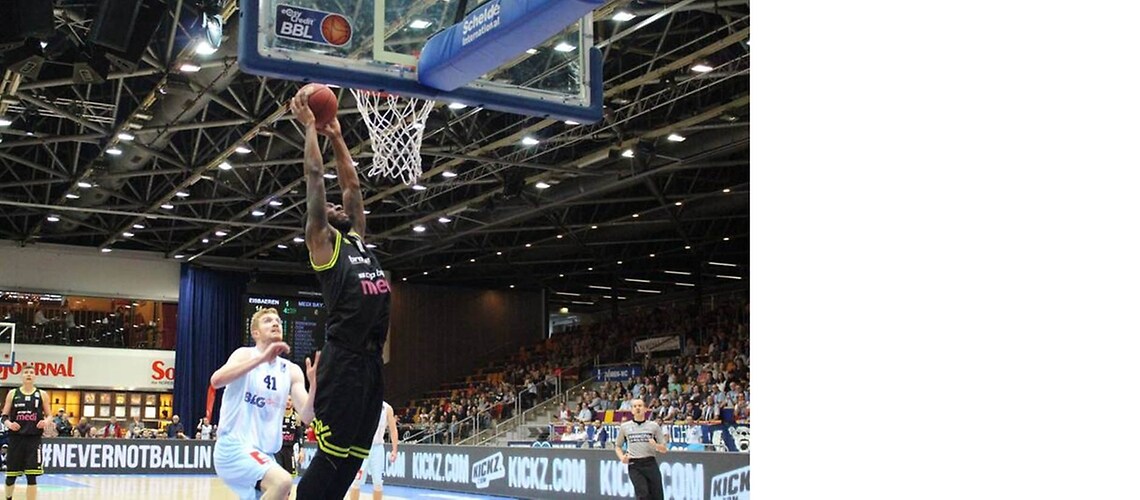 Bremerhaven, 2017-05-11
Bremerhaven got off to the better start, striding 7:2 in front in the first two minutes. The home side soon stretched its early lead to 12:6, as medi did not put up much resistance in defense to begin with. Johnny Berhanemeskel, whose three meant he scored ten of the Polar Bears' 19 points up to then in seven minutes, was virtually unstoppable in the first period. De'Mon Brooks was able to reduce the deficit to 17:21 after the first foul of the encounter. However, the home side extended its lead again to 29:22 after the first quarter.
After 51 points had been put on the board in ten minutes, the second period was almost three minutes old before Steve Wachalski scored its first points with a bucket from downtown. medi bayreuth was now more solid in defense, but fell behind by a double-digit margin for the first time after an unsporting foul by Andreas Seiferth in the 14th minute (35:25). James Robinson sparked Bayreuth's first comeback one minute later. He first scored three times from the foul line and then, after a steal, made it 31:37 with an and one. James Robinson drained a three from far outside to cut the deficit to 46:51.
Bremerhaven was able to defend its lead in the third period and usually managed to keep six points ahead. However, Bayreuth stepped up its intensity in defense as of the 26th minute and cut the gap to 61:63 with a run of six points without reply. However, threes by Ivan Elliott and Jordan Hulls kept medi at arm's length.
The Heroes Of Tomorrow stepped up a further gear to add eight straight points, including a bucket from beyond the arc by Gabe York to put them in front for the first time (79:76). The Polar Bears turned the game around again with two threes. However, the Heroes Of Tomorrow snatched the lead back after an unsporting foul by Geoffrey Groselle. Gabe York made it 86:84 with 21 seconds on the clock, but Johnny Berhanemeskel equalized 15 seconds later to send the game into overtime.
It was then that Geoffrey Groselle and later Nate Linhart were forced to retire after committing their fifth personal foul. A steal by John Cox enabled Gabe York to make it 91:88 and put medi bayreuth on the road to victory in the 42nd minute. Bayreuth also refused to be disconcerted by a further three by Brembly to tie the encounter at 93:93. Just seconds later, De'Mon Brooks put his side ahead again and Gabe York buried his free throws securely to make the final score 103:99 for the Heroes Of Tomorrow.