Milan/Munich
Brose Bamberg loses in Milan and Munich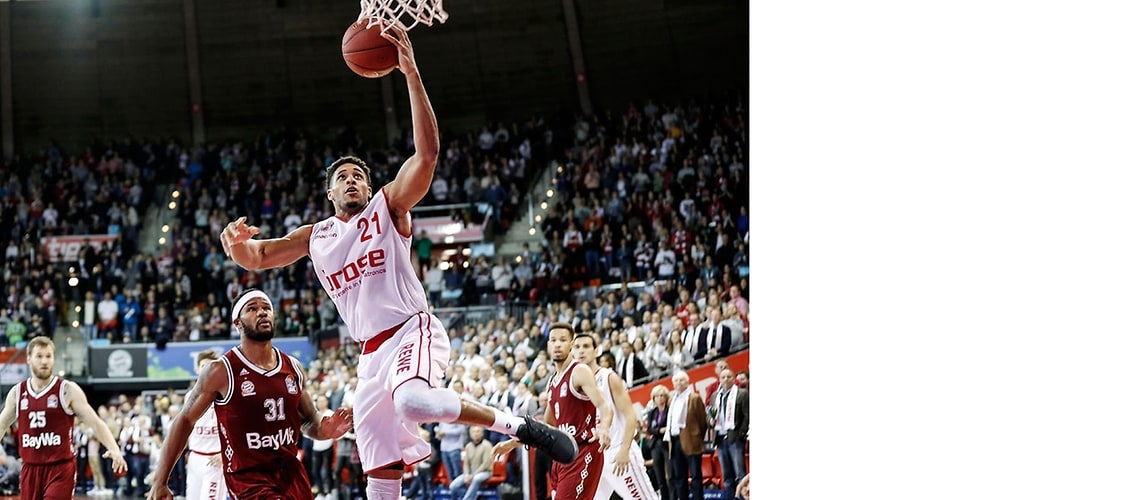 Milan/Munich, 2017-19-11
German champions Brose Bamberg suffered two defeats in the Euroleague and easyCredit German Basketball League on the weekend. On Friday evening, Bamberg was not able to hold on to an 11-point lead in Milan and lost by 62:71. In the encounter against domestic league leaders FC Bayern Munich on Sunday afternoon, it was clear that three games in five days had sapped the strength of Head Coach Andrea Trinchieri's team as it went down to a 68:77 defeat.
Bamberg controlled the game in Milan's Mediolarum Forum for 35 minutes. Ali Nikolic deserved special praise for the excellent way in which he took Milan's sharpshooter Jordan Theodore out of the game. The Slovenian player also drained two important buckets from beyond the arc to put his team 16:13 in front after the first period. The home side briefly caught up and led by two points, but after a timeout by Trinchieri Bamberg's defense stood solid again and at the end other end Maodo Lo and Bryce Taylor helped produce a 12:2 run to regain the lead for their side at half-time (35:27). The German champs opened up a 51:43 gap going into the final quarter thanks to top scorer Dorell Wright. When Bamberg took a double-digit lead for the first time through the next threes by Ali Nikolic and Ricky Hickman, the team missed the chance to seal the encounter. Four steals, from which Milan scored each time, and hasty shots in offense brought the home side back into the game and Milan suddenly started scoring from every position. The result was a run of 19 points without reply – Bamberg was not able to put up decisive resistance any more and finally suffered a defeat that it could have avoided.
Brose Bamberg got off to a good start in the top game in the German league. Augustine Rubit laid the foundation for a 13:7 lead with three lay-ups and slam-dunks in a row. Bamberg ended the first period 24:20 ahead thanks to two buckets from outside by Maodo Lo and Patrick Heckmann and a lay-up after a steal by Ali Nikolic. However, FC Bayern defended far better at the start of the second quarter and Bamberg went almost five minutes without scoring. Bryce Taylor reduced the deficit to 44:50 with a three midway through the third period. After Bamberg then missed lay-ups, Munich stretched its lead. Yet the German champions did not give up and closed the gap to 60:64 thanks to three straight threes by top scorer Dorell Wright. However, it was precisely then that Bamberg missed its next four shots from downtown, with the result that Bayern pulled 67:71 and then 67:75 in front to decide the encounter in its favor.
Andrea Trinchieri commented: "We dominated the game in Milan for 35 minutes and had everything under control. When you have to play so many games in a short time, you have to know what you can give and what you have to conserve. We were eleven points ahead, but then stopped playing and threw the game away. The strenuous last few days decided the encounter in Munich – our fourth game in the space of a week. We could have won, but we lacked the necessary energy at the end. In view of those circumstances, we turned in a solid display."