Bayreuth
medi bayreuth does what was expected and coasts to victory against Oettinger Rockets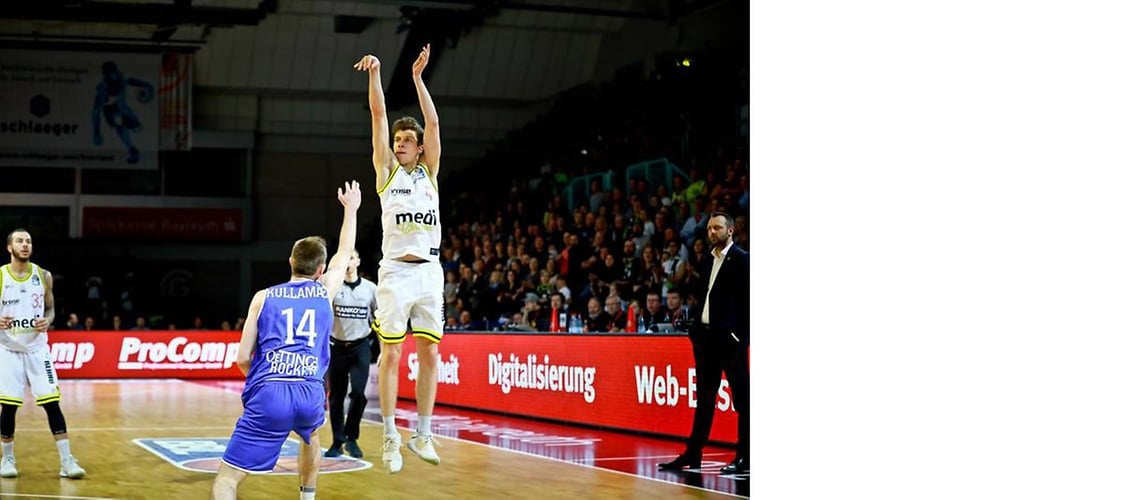 Bayreuth, 2017-10-12
Since the visitors from Thuringia were without the former Bayreuth player Ekene Ibekwe, the Heroes Of Tomorrow had extra space in the zone and below the baskets. Nevertheless, they mainly deployed shots from downtown in the opening spell, once again by feeding Gabe York, who drained two to make it 8:5. The gaps also began to open up below their opponents' board. De'Mon Brooks and Andreas Seiferth were repeatedly sought and found by their teammates, as the first period ended with the score at 22:15.
Henrik Rödl, Head Coach of the German national team, was likely very delighted at the form shown by Bayreuth's two internationals, especially in the second quarter. First of all, Bastian Doreth buried a shot from beyond the arc to give his side its first double-digit lead, then Robin Amaize kept on adding to his haul. Although the Rockets now also began to hit the mark from outside, the Heroes Of Tomorrow always found the right antidote. It was not until the second part of the period that the visitors managed to cut the deficit to 37:43 with a run of eight points without reply. However, three Bayreuth attacks were enough to help it score seven points and surge 50:37 ahead.
Erfurt cut the gap to 45:50 with six quick points at the start of the second half – and Raoul Korner showed what he thought of his team's performance by calling a timeout after just 30 seconds. With the deficit reduced to just three points in the 23rd minute, Nate Linhart stepped up to the plate and, with a bucket from downtown, sparked a 7:0 run that restored the double-digit lead. Robin Amaize then stretched the lead to 69:55 with six straight points.
The score going into the final period was 73:57 and, although the game was already decided, the Heroes Of Tomorrow remained focused. Several beautifully carved-out threes, the final one again from top scorer Gabe York, extended the lead to 21 points in the 37th minute. Young talent Marius Adler notched up his first points of the season to great applause with a minute to go. The encounter ended with a 93:72 victory for the home side.