Bamberg
Brose Bamberg defeats Olympiacos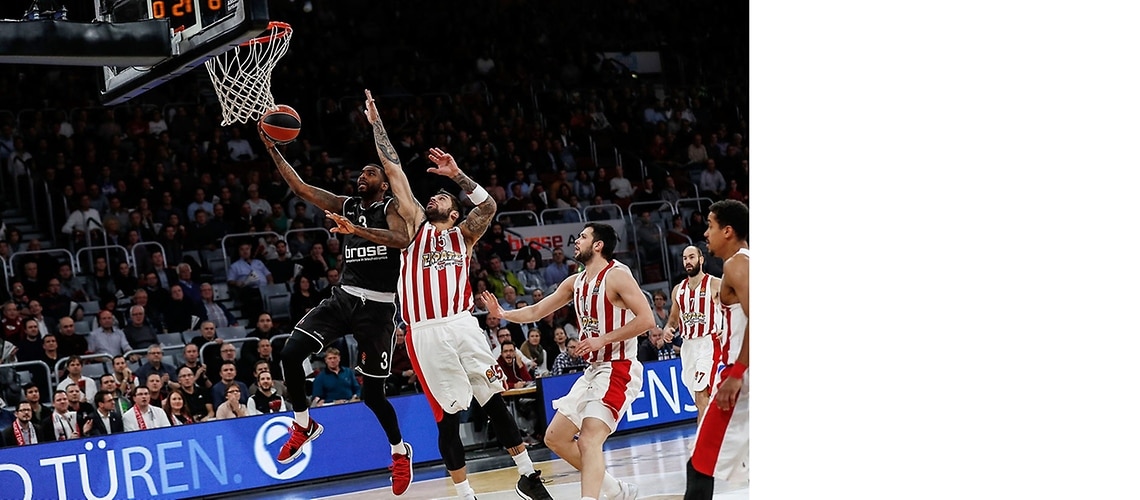 Bamberg, 2017-14-12
The 6,150 fans in the Brose Arena yet again experienced a magical evening in the Euroleague. For three periods, the German champions tried to find their rhythm in offense in the face of strong defending from last season's runners-up Olympiacos Piraeus and trailed by 52:62. Yet spurred on by Daniel Hackett, the team of Head Coach Andrea Trinchieri managed to produce a run of 15 points without reply and crowned the spectacular comeback with a narrow 67:65 home win over the Greek club.
Brose Bamberg seems to have become the bogey team of Olympiacos Piraeus. In the seven encounters with the three-times Euroleague champions, Bamberg has celebrated five wins and against no other top European team does it have such a good record. Yet for 34 minutes, it did not look like Brose Bamberg would chalk up its sixth win of the season. Without the injured Elias Harris, Bryce Taylor and Luka Mitrovic and new signing Dejan Musli, Trinchieri's team had great difficulties against Olympiacos' strong defense. Although Bamberg got off to a strong start and went 9:5 in front thanks to nine straight points by Dorell Wright, Olympiacos then boarded up its basket. The Greek club closed the deficit to 15:14 by the end of the period. The visitors pulled away in the second period and led 32:40 by the break.
At the end of the third period, Daniel Hackett then fired up his teammates, single-handedly adding three lay-ups in the space of 90 seconds to cut the gap to 50:58 going into the final quarter. The encounter then turned into a real battle of nerves. Bamberg was now much improved in defense and forced Olympiacos' experienced shooters like Vassilis Spanoulis, Brian Roberts and Janis Strelnieks into launching hasty attacks. Top scorer Dorell Wright drained his only bucket from downtown to make it 55:62, while the strong Augustine Rubit snapped up an offensive rebound to reduce the deficit to 57:62. Daniel Hackett intercepted a pass by Spanoulis to add a lay-up plus a bonus free throw (60:62). On the next attack, Hackett won two free throws and capped his performance and 13-point haul to tie the scores at 62:62 with four minutes to go. Olympiacos responded nervously, conceded its next turnover and Augustine Rubit buried his first three in the Euroleague to put his side 65:62 ahead. And when, with 49 seconds on the clock, Ricky Hickman stormed through Olympiacos' defense and scored a lay-up to make it 67:62, the entire Brose Arena went delirious.