Crimmitschau
Brose supports school project for children in Crimmitschau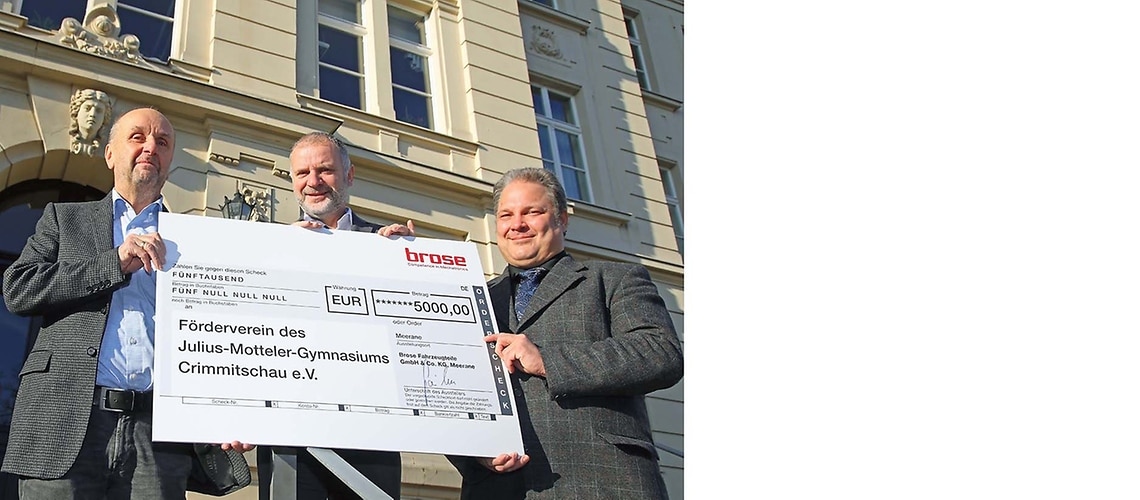 Crimmitschau, 2017-14-12
Jörg Graichen, Plant Manager in Meerane, has presented a donation check for €5,000 to the booster club of the Julius Motteler High School in Crimmitschau. It is a STEM high school with a greater focus on scientific subjects. There are only six high schools of its kind in Saxony.
"With this money, we want to support the school's 'makerspace concept,' which is about to get underway and will give the youngsters an even better creative and practical education," was how Jörg Graichen explained the donation.
Makerspace describes a sort of hobby room at the high school where students can try out and work on new ideas and do-it-yourself projects – with a saw and wood and, as befits the digital age, using a laser cutter, PC or 3D printer. The objective of makerspaces at schools is to integrate more practical activities into everyday school life again. As a result, important skills needed in our day and age – innovativeness, problem-solving expertise, teamwork or how to use digital technologies – are encouraged alongside lessons in theory.
The donation is to be used initially to create, among other things, a workshop area with workbenches and common tools, including a well-equipped electronics workplace, in the Haus Lindenstraße building in Crimmitschau. Thanks to Brose's aid in this project, the Julius Motteler High School will assume a pioneering role in the Western Saxony/Eastern Thuringia region.