Kaunas
Brose Bamberg cannot win at bogey team Zalgiris Kaunas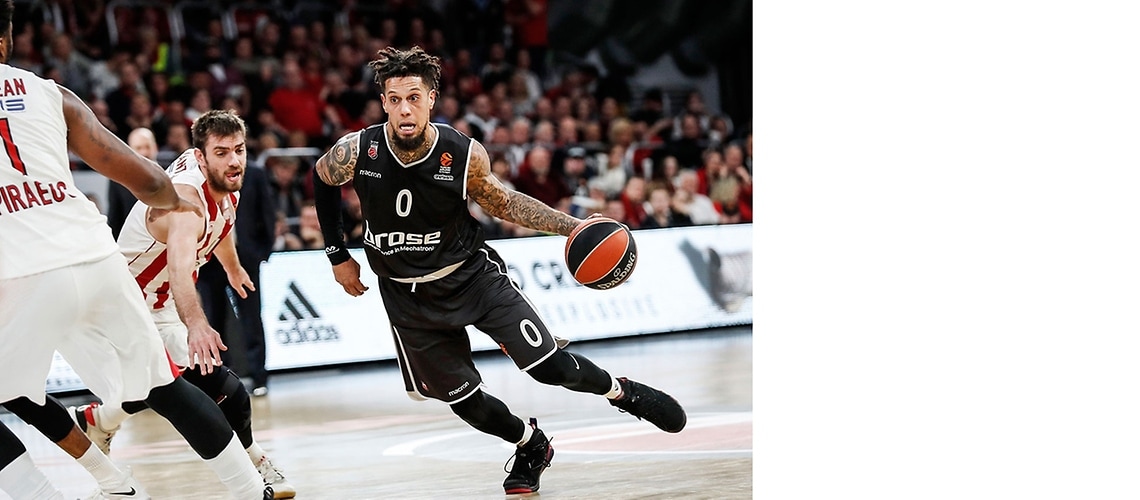 Kaunas, 2017-19-12
The German champions Brose Bamberg were again not able to win on the road at Zalgiris Kaunas at the seventh attempt in their history in the Euroleague. After a tough fight, they went down 84:88 to the Lithuanian club and, with a record of six wins and seven defeats, are now 10th in the table in Europe's top club competition.
Bamberg found it difficult to get into the game against its bogey team Kaunas, against which it has won one and lost 11 encounters. The team of Head Coach Andrea Trinchieri, which was still without the injured Harris, Taylor and Mitrovic in addition to Musli, who is not yet eligible to play for his new club in the Euroleague, failed to score on four attacks, but was able to fall back on its prowess in defense. Daniel Hackett drained a bucket from beyond the arc to put his side 3:2 ahead after three minutes, then Leon Radosevic stretched the gap to 7:4 with a lay-up and free throws. Dorell Wright came on and injected zest into his side's offense. Nikos Zisis distributed the ball cleverly: In the eight attacks that resulted in Bamberg scoring, the Greek player provided the assist. And Dorell Wright benefited from that and scored a three, a lay-up and then another three – eight straight points to put Bamberg 16:6 in front after eight minutes. Yet every mistake is punished in the Euroleague and so Kaunas was able to exploit Bamberg's slips in defense to add two threes and two lay-ups to cut the deficit to 18:16 in the space of 90 seconds. Kaunus' fourth bucket from downtown wriggled its way into the bucket at the start of the second period to put Bamberg 22:24 behind. Augustine Rubit scored a slam-dunk to make it 27:26 in favor of the visitors, but that was to be the last time they would be ahead. The home side's Arturas Milaknis moved into top gear, draining three shots from outside and stretching the lead to 33:40. Top scorer Dorell Wright, who notched up 15 of his 22 points before the break, and Daniel Hackett kept Trinchieri's team within striking distance at 49:50.
Bamberg was still not able to stop Milaknis after the break: The Lithuanian drained three buckets from downtown in a row to leave Bamberg trailing by double digits (54:64). Yet the German champions have often enough displayed their ability to stage a comeback in this Euroleague season – as was the case at the end of the third period: three buckets from outside by Maodo Lo, the next three from Dorell Wright and a lay-up by Lo (14 points) tied the scores at 72:72. Yet Bamberg did not manage to take the lead. Zalgiris repeatedly moved ahead, only for Bamberg to hit back. However, after Daniel Hackett made it 79:80, Trinchieri's team missed two shots, which the home side promptly capitalized on by draining two threes to move 79:86 in front with 100 seconds remaining. Daniel Hackett (17 points) closed the gap to 84:86 with a crazy three from more than eight meters out, but Zalgiris sealed the game on its next attack.
Andrea Trinchieri commented: "We played very well. But a few details were lacking. We gave Milaknis free space too often and that caused us problems, especially in the second and third periods. But we came back and produced a solid game. However, I don't understand the referees. We had a pre-season meeting where they told you they want to clean up the game. And then Wright has his shirt pulled the whole time. Or is fouled while attempting threes. And there's no whistle. I don't understand it."
Trinchieri's team now welcomes the top Spanish team Real Madrid, who has the former Bamberg player Fabien Causeur in its ranks, to the Brose Arena tomorrow evening (tip-off: 8 p.m.).