Tel Aviv-Jaffa
Brose Bamberg loses narrowly in Tel Aviv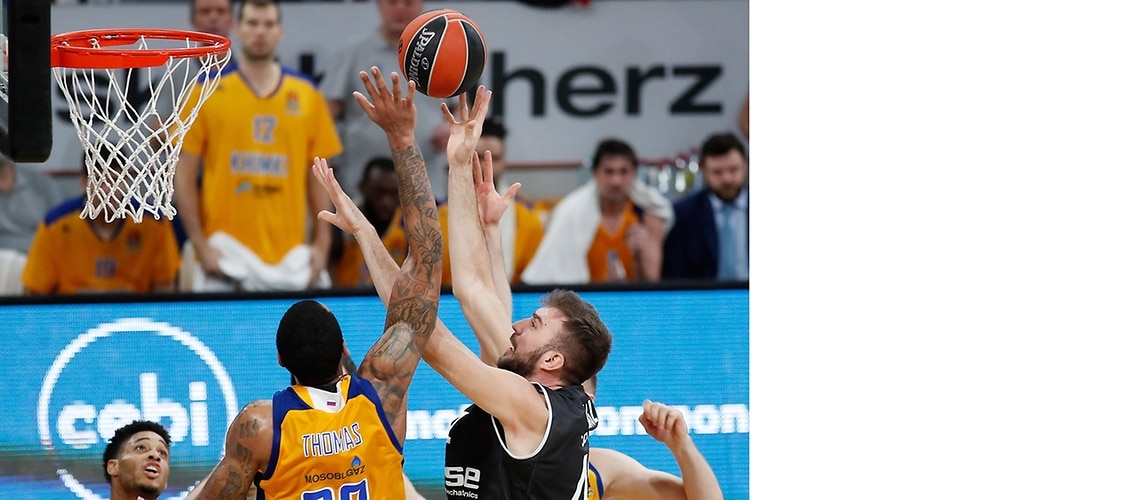 Tel Aviv-Jaffa, 2018-11-01
It was the fifth successive defeat in the Euroleague for German champions Brose Bamberg – and once again, they were not able to hold onto an eight-point lead. The 88:90 loss on the road at Maccabi Tel Aviv means the team of Head Coach Andrea Trinchieri has slipped to 13th in the table of Europe's top club competition.
Maccabi got off to the better start in the opening four minutes, but Bamberg did not let the home side pull away by more than four points. The German champs produced a strong performance in the first half, especially below the basket. Center Dejan Musli successfully claimed possession a number of times and snapped up offensive rebounds to score important points at the second chance. His lay-up with a bonus free throw tied the scores at 14:14 with what was already his ninth point. Bamberg then kept Tel Aviv away from its basket and Maodo Lo, Lucca Staiger and Dorell Wright drained three buckets from downtown to put the visitors 25:20 in front at the end of the period. Lucca Staiger added the next three, but Bamberg was not able to extend its eight-point lead. With the score at 28:20, Ricky Hickman missed the opportunity to put his side ahead by double digits and then, at 32:25, Augustine Rubit failed to stretch the gap when he conceded a turnover. Dorell Wright only scored from one of his nine shots, while Ricky Hickman missed all of his shots from the floor in the first half, draining just his two free throws to make it 41:39 after twenty minutes.
Tel Aviv sparked a run of seven points without reply after the break. On an attack by Ricky Hickman, Maccabi's playmaker twice struck the Bamberg player's arm, meaning two fouls in one scene – with the second even being adjudged to be an unsporting one. Ricky Hickman buried both free throws and immediately afterwards drained a bucket from outside to put Bamberg 49:46 in front. Nikos Zisis and Hickman followed that up with further threes, but with the score at 52:46 the Israeli club struck back with a powerful spell. It capitalized on an unsporting foul by Maodo Lo to add five points on one attack to move 60:65 in front. Bamberg's strong center Dejan Musli cut the gap to 64:65 at the end of the quarter. Ricky Hickman now came into his own, draining three straight buckets from beyond the arc and crowning his 23-point haul with a lay-up to give Bamberg a 77:71 lead. Daniel Hackett extended that to 84:76 with five minutes to go. Pierre Jackson exploited a controversial unsporting foul by Ricky Hickman to add four free throws in a row and the American buried another three to turn the game around for Maccabi (87:88). It was precisely then that Bamberg missed a free throw for the first time through Daniel Hackett and only managed to tie the scores at 88:88. With Maccabi ahead by 88:90, Augustine Rubit, Nikos Zisis, Ricky Hickman and Daniel Hackett failed to equalize or score the winning points on the next four attacks.
Andrea Trinchieri commented: "I feel terribly sorry for my players, who produced an incredible game. We deserved to win, but the referees didn't let us. When they blow the whistle every time for Jackson, then they should at least award one to the other side occasionally. Congratulations to Maccabi, but I say from the bottom of my heart: My team deserved to win. We were better. But that doesn't change a thing. It was a pleasure today to watch my team, in this arena where other clubs with ten times our budget have already stumbled."