Bamberg
Brose Bamberg defeats Kaunas 93:86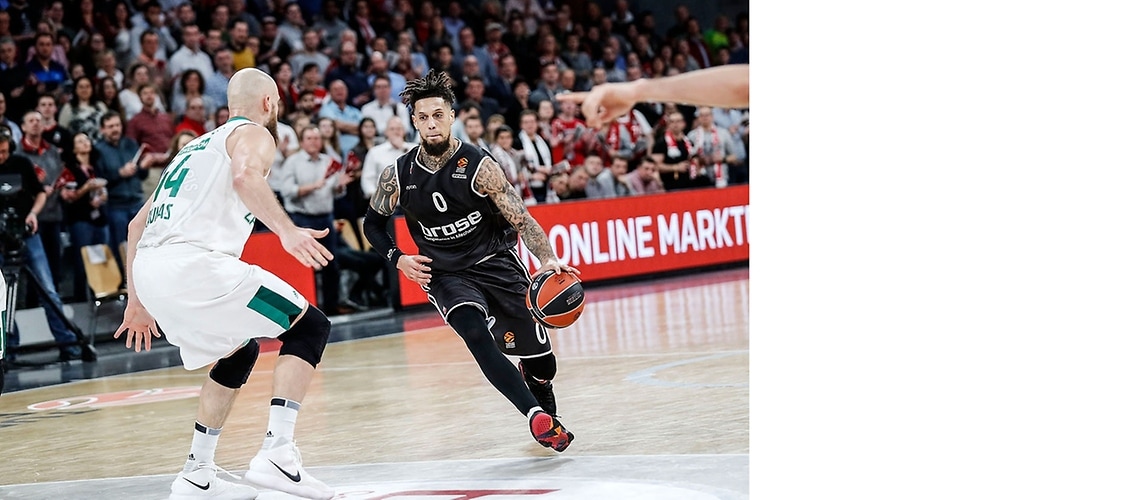 Bamberg, 2018-16-01
The losing streak is over! After five defeats in a row, the German champions Brose Bamberg finally got back to winning ways in the Euroleague, beating sixth-placed Zalgiris Kaunas 93:86 at home.
Bamberg seems to be dogged by injuries this season. Apart from Luka Mitrovic, Elias Harris and Bryce Taylor, who had to undergo an operation on his calf last Thursday, Head Coach Andrea Trinchieri is now also missing. The Italian was operated on his shoulder on Tuesday. Assistant coach Ilias Kantzouris will stand in for Trinchieri until the latter returns. It was a special game for him: Kantzouris began his coaching career outside his native Greece at the Lithuanian club, which has a string of national titles to its name. Kantzouris surprisingly picked Patrick Heckmann in his starting five. The young German paid that trust back right away with a bucket from beyond the arc and a strong performance in defense. Center Dejan Musli made his mark beneath the basket, bagging three lay-ups to put Bamberg 18:12 in front. However, the visitors showed why they are one of the top teams in the Euroleague this season. With quick passes and swift attacks, they tied the scores in the space of 100 seconds to leave Bamberg trailing 21:23 at the end of the period. As in the previous game between the two, Bamberg was unable to get a handle on Kaunas' three-point specialist Arturas Milaknis, who drained all three of his shots from downtown up to half-time. In the final two minutes before the break, the basket seemed to be boarded up for the home side, which Kaunas exploited to produce a small run and go in leading by 37:44.
Coach Kantzouris must have found the right words in his pep talk, as Bamberg came back on court with great desire and fight and chipped away at the 41:49 deficit. First of all old-hand Nikos Zisis drained a three to make it 44:49, then stole possession to bury the next bucket from outside (47:51). He then added another three to cut the gap to 54:56. The strong Augustine Rubit tied the scores at 56:56. Daniel Hackett and Patrick Heckmann put Bamberg 64:59 ahead. Zalgiris struck back through the former Bonn player Aaron White (64:65), but that did not make Bamberg nervous. The home side defended in commanding fashion and stole the ball three times in the final period. Maodo Lo now also scored five points and helped his side take a 77:70 lead with five minutes remaining. Kaunas reduced the deficit to three, but Bamberg did not let victory slip from its grasp thanks to a strong performance by Daniel Hackett and top scorer Augustine Rubit in the final spell.
Coach Ilias Kantzouris commented: "We played excellently as a team. We had a few problems controlling Milaknis in the first half. But we also pulled ourselves out of that as a team and everyone fought for each other. The win is also important psychologically. We've lost a number of games in the final minutes and that naturally has a negative impact on the mood. So this victory is a positive signal for everyone."