Barcelona
Brose Bamberg loses at FC Barcelona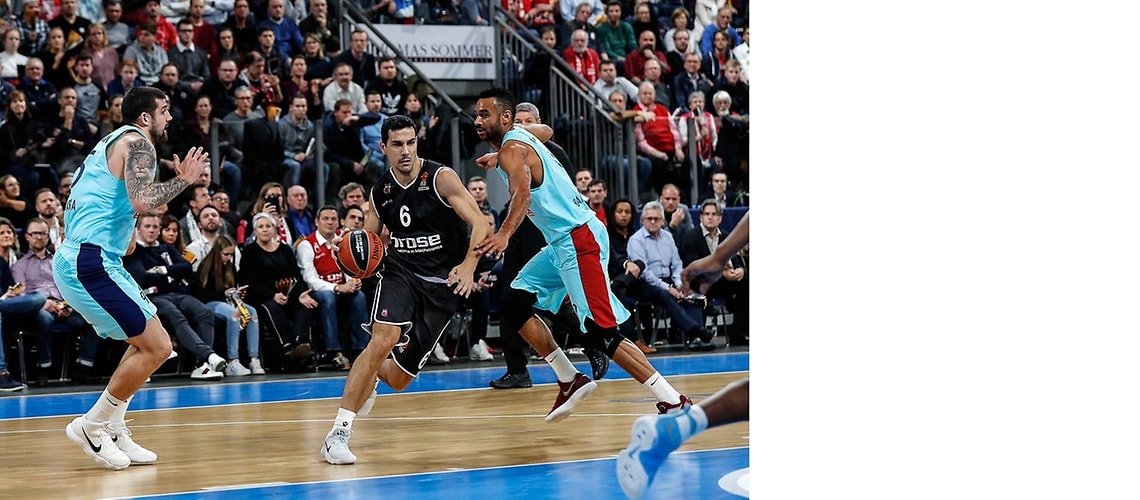 Barcelona, 2018-18-01
The German champions and cup winners Brose Bamberg suffered their 12th defeat on the 19th matchday of the Euroleague. The team of "interim" Head Coach Ilias Kantzouris lost 66:81 on the road at FC Barcelona. Trailing by 12 points, Bamberg clawed its way back to 66:67 with three minutes to go, but then failed to score in the final 180 seconds, whereas Barcelona drained every one of its last five shots.
The opening was characterized by nervousness and mistakes on both sides. Kantzouris' team lost possession in offense four times in the first four minutes, but Barcelona was not able to capitalize on that whatsoever and missed all of its first six attempts from beyond the arc. It was only after five minutes, with the score at 4:4, that the game livened up. Three quick attacks by Barcelona put it 4:10 in front. In his "anniversary game," old hand Nikos Zisis brought Bamberg's drought to an end by draining a three to make it 7:10. The encounter in Barcelona was the Greek player's 300th appearance in the Euroleague, a mark that only two professionals had achieved before. The three-point gap held until the end of the period. However, Barcelona built a ten-point lead at the start of the second quarter (24:34). Leon Radosevic and Dorell Wright put up stiff resistance and stopped the Spanish side from pulling further away before half-time (34:44).
The strain of two Euroleague games in a short space of time was visible on both sides after the break: Both teams made mistakes and many inaccurate shots, while Bamberg continued to concede too many turnovers. Yet the visitors were not to be shaken off, despite their pretty weak performance. Lucca Staiger drained a crazy three from more than ten meters out and Patrick Heckmann finished an excellent alley-oop pass from Daniel Hackett from his own half by hammering in a slam dunk. The German champions reduced the deficit to 50:57 on the buzzer at the end of the third period. Bamberg's top scorer Maodo Lo turned on the heat in the final quarter and, after scoring two lay-ups, the German player buried two successive buckets from downtown to close the gap to 66:67 with 180 seconds left. But suddenly Bamberg's flow was inexplicably disrupted. It conceded three turnovers on the next three attacks, which the former Bamberg player Rakim Sanders exploited mercilessly to put "Barca" back ahead by seven points (66:74). Bamberg was no longer able to overcome the shock and the home side extended its lead to 81:66.
Ilias Kantzouris commented: "We knew Barcelona would try everything, as it had to win this game to keep in contention for a playoff spot. We didn't play well. We made too many mistakes, but even then we were still within one point with three minutes remaining. However, we let our concentration slip and allowed them to score easy points. We only had one team foul to our name, so we ought to have played more cleverly."