Frankfurt
medi bayreuth advances to the TOP FOUR in commanding fashion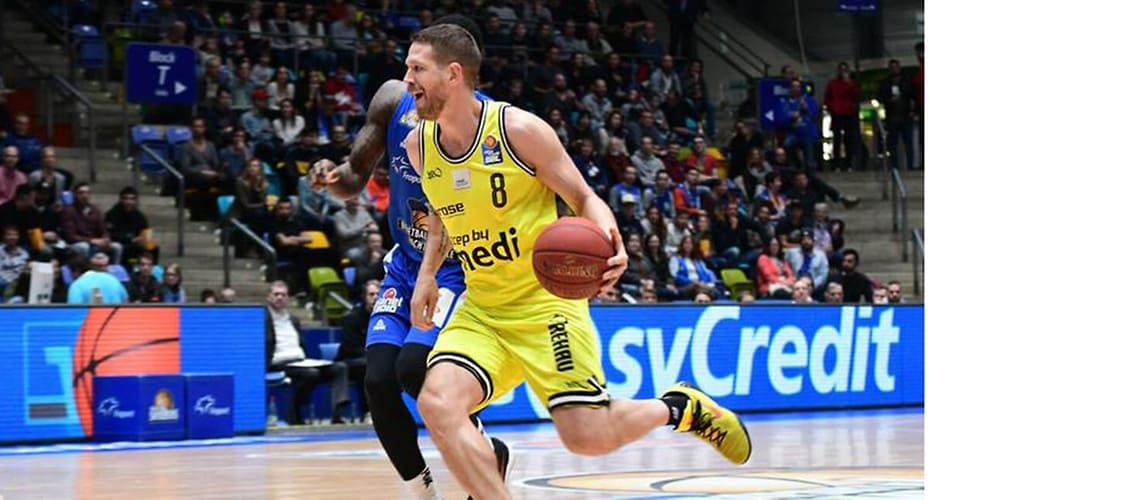 Frankfurt, 2018-20-01
medi bayreuth has qualified for the easyCredit TOP FOUR in Ulm in mid-February with an extremely strong team performance. With an all-round team effort and impressive performances both in offense and defense, the Heroes Of Tomorrow on their game on the road at FRAPORT SKYLINERS by 96:74 (60:33) to advance as the first qualifier for the TOP FOUR tournament alongside the already seeded home side ratiopharm ulm.
From the outset, the team of Head Coach Raoul Korner was more alert than the home side and more focused and uncompromising at both ends of the court. Its first six shots hit their mark to give the visitors an early 18:6 lead after four minutes. The team impressively built on that foundation up to the break, conceding just two turnovers. Whereas the Heroes Of Tomorrow only managed two buckets from beyond the arc in the entire league encounter between the clubs exactly three months ago, they notched up nine by the break this time.
The majority of the 4,740 spectators in the Fraport Arena soon realized which team would be the one to qualify for the finals in Ulm on the evening.
The draw for the easyCredit TOP FOUR cup tournament in Ulm on February 17 and 18 pitted medi bayreuth against ALBA BERLIN in the semi-finals. The Albatrosses won their qualifier at home against MHP RIESEN Ludwigsburg by 78:73.
Raoul Korner, Head Coach of medi bayreuth, commented: "I have to pay a big compliment to my team. It's always exciting to observe how a team reacts in do-or-die situations. We displayed a high level of quality today and were very alert and highly focused. We also made very good shots. It was almost a little uncanny how well we shot in the first half. But those shots were because of how well we moved the ball. I'm proud to see how we came through this test of our maturity against a strong Frankfurt team. Now we're looking forward to the TOP FOUR and Ulm full of anticipation."
With this win and qualification for the TOP FOUR under their belt, the Heroes Of Tomorrow now travel to Madrid for a key game against their group's second-placed side Estudiantes. The tip-off on Tuesday, January 23 is at 8:30 p.m.