Gießen
Brose Bamberg engages Luca Banchi as Head Coach and wins in Gießen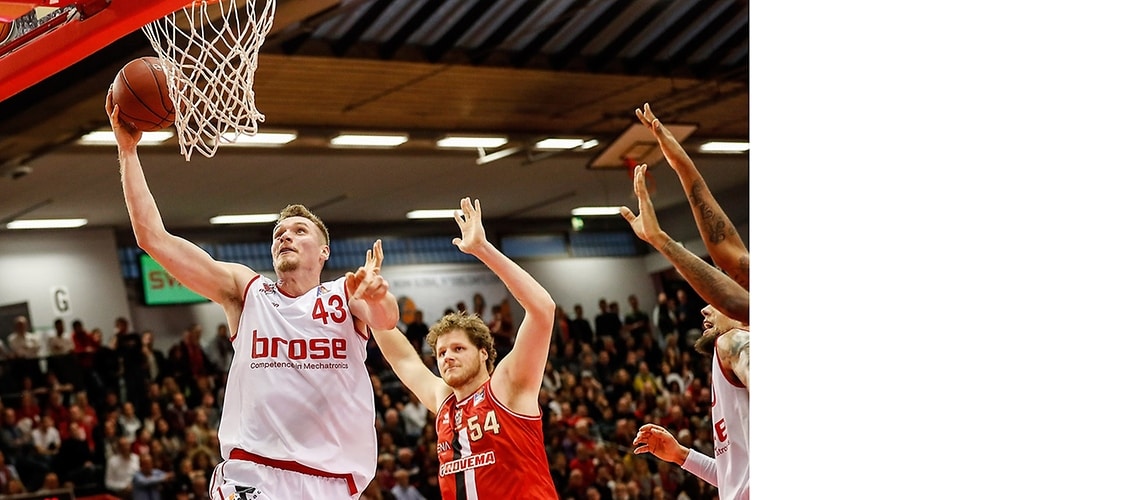 Gießen, 2018-04-03
At last some good news again for Brose Bamberg. On Saturday evening, the German basketball champions engaged Luca Banchi as their new Head Coach and on Sunday, in their last game under interim Head Coach Ilias Kantzouris, they broke their losing streak of 15 losses on the road by defeating Gießen 46ers by 105:96 in a nail-biting affair that went into overtime. Bamberg has thus moved into eighth and so is back in a playoff spot.
52-year-old Luca Banchi is Brose Bamberg's new Head Coach. The Italian has been given a contract until the end of the season and has been tasked with leading the German champs into the playoffs and getting the best-possible result out of a season that has been pretty poor so far. At the end of the season, Bamberg has the option of retaining Banchi for the next one. He won the Italian championship title on several occasions with Montepaschi Siena and EA7 Armani Milan and coached both teams successfully in the Euroleague. This season, the successor to Andrea Trinchieri steered Fiat Turin into the top 16 of the Eurocup, where it defeated Bamberg's arch-rivals FC Bayern. However, he terminated his contract in Turin in mid-January due to differences with management. A major factor in favor of Banchi is that he has already coached a number of key players in Bamberg's team: Daniel Hackett for three years in Siena and Milan, and Leon Radosevic in Milan and Nikos Zisis in Siena. Banchi will preside over training for the first time on Tuesday and can hardly wait to begin his work: "I look forward to joining the Brose family and doing this job. I know the team's current situation. My task now is to improve the team game by game and help it move forward. Everyone in Bamberg has deserved to see us play this season out successfully. I'll devote all my efforts and energy to achieving that. I wish to convey my enthusiasm and experience to the players and fans so that we can turn things around soon."
One day after the new Head Coach was announced, Brose Bamberg was able to end its four-month barren spell on the road. In the first period, the reigning champions seemed inhibited by the pressure on them to win against Gießen, who was just below them in the table, and trailed 16:21 at the end of it. However, Kantzouris' players then found their mark, in particular Daniel Hackett with nine points in the second quarter, Leon Radosevic and Dorell Wright (18 points), pulled 37:29 ahead and took a 42:38 lead in with them at half-time. In a strong third quarter, it was in particular Ricky Hickman who turned on the heat, scoring ten out of his total haul of 24 points to help put Bamberg 61:46 ahead after 27 minutes. Yet the next 13 minutes illustrated how greatly Bamberg can be disconcerted at the moment. Gießen switched to zone defense and Bamberg failed to find a recipe to keep on scoring against that tactic. Gießen continuously drew closer and, with 37 seconds remaining, tied the scores at 79:79. Free throws by Ricky Hickman, who scored 10 out of 11 of them, put Bamberg 85:82 in front with eight seconds left on the clock, but Gießen equalized with three free throws after a dubious foul was called. The club from Hesse then drained two buckets from downtown in overtime, but Bamberg showed great heart with its back to the wall and trailing 89:93. The champs suddenly played very commandingly and flawlessly. Hickman buried a three to make it 92:93, Augustine Rubit drained all his free throws, and the outstanding Daniel Hackett (28 points, 8 rebounds, 6 assists) crowned his best performance in the league with his fourth bucket from beyond the arc out of five attempts to put his side 99:93 ahead with 63 seconds to go. Gießen wanted to turn the game around by committing fouls, but Hackett, Rubit and Hickman rounded out the champions' strong performance from the foul line (31 out of 33 attempts) to notch up a 105:96 victory.