Erlangen/Nuremberg
HC Erlangen loses to TVB Stuttgart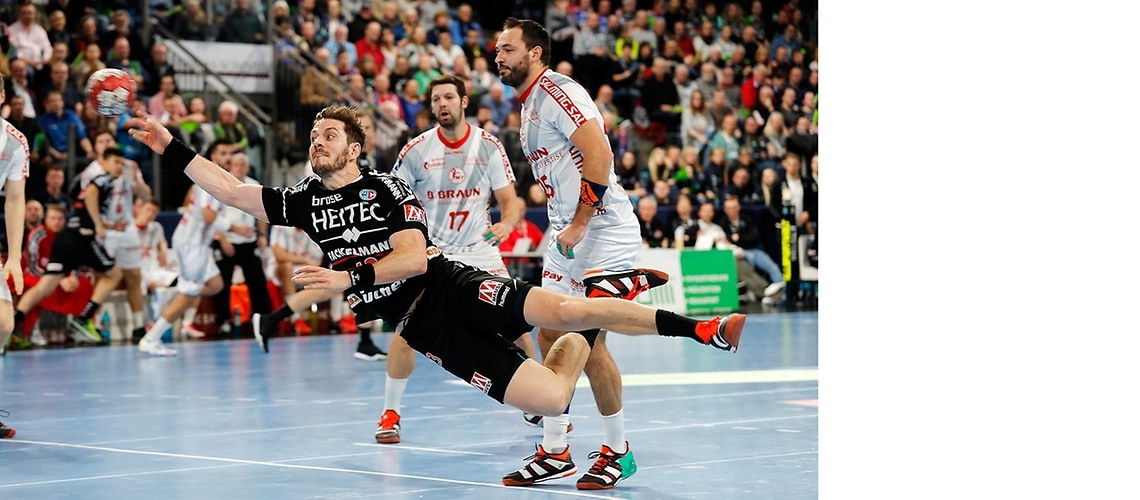 Erlangen/Nuremberg, 2018-10-03
HC Erlangen lost its home game against TVB Stuttgart by 25:29. The team of Head Coach Aðalsteinn Eyjólfsson thus missed the opportunity to win its second game in a row and is still 13th in the DKB German Handball League.
The scene was set. Well in excess of 5,000 handball fans had flocked to the Nürnberger Versicherung Arena on Saturday evening to get behind their team. Playing in black, Erlangen had also set its sights high going into the home game. However, the tussle with TVB Stuttgart began in a way that the HC's fans had not expected. From the throw-off, goalkeeper Johannes Bitter, who was part of the team that won the world championship in 2007, frustrated the Franconian club's attackers. At the other end, the club from Swabia capitalized clinically on its opportunities. The TVB surged five goals ahead in a very short space of time. Fired on by the home crowd, HC Erlangen struck back, reducing the deficit to two shortly before the break, but had to be content with trailing by 12:15 after conceding a goal in the final second of the first half.
The picture did not really change that much after the break. Bitter kept a clean sheet, HC Erlangen missed good chances, and Stuttgart pulled away again. The team led by Christoph Steinert, who turned in another strong performance (10 goals), was not able to get back into contention this time. The visitors from Stuttgart stuck to their game plan right up to the death and were even able to allow themselves the odd bit of carelessness in the final five minutes before running out deserved winners by 29:25.
Aðalsteinn Eyjólfsson said afterwards: "We didn't manage today to repeat our performance from the game against Gummersbach. Stuttgart deservedly won thanks to a very strong display by its goalkeeper and extremely efficient finishing."