Piraeus/Ulm
Brose Bamberg loses narrowly in Piraeus, but outclasses Ulm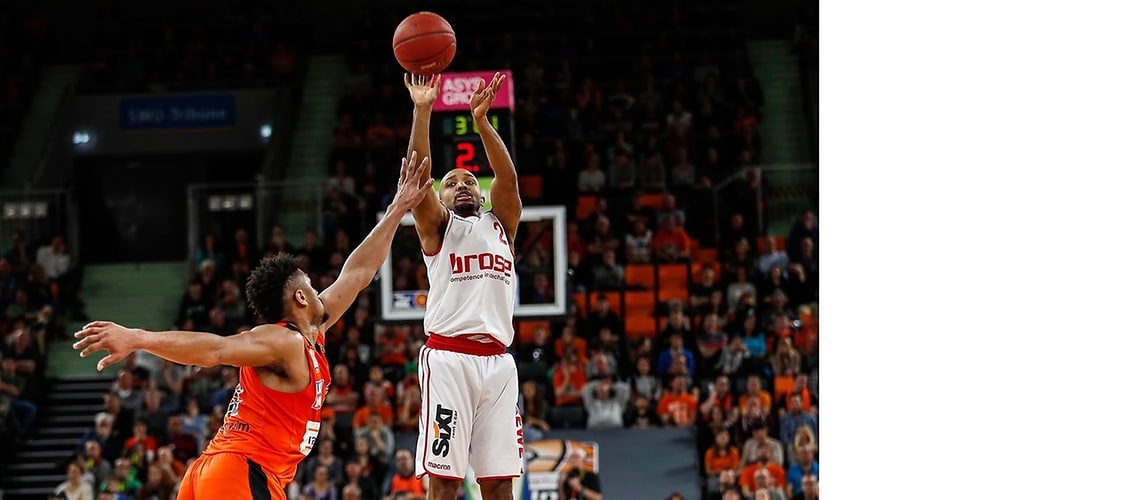 Piraeus/Ulm, 2018-11-03
The bottom line from the weekend was one defeat and one win, but German champions Brose Bamberg can be fully satisfied with both games on the road. On Friday evening, they lost 79:87 at Euroleague runners-up Olympiacos Piraeus, but that was certainly not a false start to the reign of Bamberg's new Head Coach Luca Banchi, given the commitment and morale his team showed. And Bamberg illustrated that at playoff rival ratiopharm Ulm on Sunday evening despite the great pressure on it to win. With what was at times its best display in defense this season, Banchi's team literally dissected the opposing side and strolled to a 90:67 victory.
In the away again in Piraeus, there were clear signs that the new signing Luca Banchi would be different in character to his predecessor as Head Coach: The 52-year-old was calm and collected on the sideline, in contrast to the explosive Andrea Trinchieri. It was obvious to see that Banchi does not want to disconcert his players any further by griping and complaining. Banchi, who hails from Tuscany, praised his players in Piraeus as they produced successful actions despite trailing, and encouraged them after mistakes instead of substituting them right away. In particular the players who had recently come in for criticism repaid that on court. Dorell Wright, Maodo Lo and Ricky Hickman helped their side go in level at 42:42 at the break after it had trailed 17:27. Unfortunately, Olympiacos exploited a number of steals against Bamberg and the visitors' poor rebound percentage to leave Bamberg trailing by 49:62. Banchi's team was able to reduce the deficit to 61:69, but Olympiacos had an answer to every Bamberg point in the final minutes.
The game against ratiopharm Ulm, who was just below Bamberg in the table, on early Sunday evening was far more important. In the course of this season, Bamberg has often found it difficult to cope with playing again in the German league barely two days after long journeys to away games in the Euroleague. That was not the case in Ulm. Rarely have the reigning champs Bamberg put in such a commanding performance as the way in which they strolled to a 90:67 victory over the Swabian club. In particular top scorer Augustine Rubit, who often seemed as if he had a mental block after outbursts by former Head Coach Andrea Trinchieri, produced a magnificent display. The former Ulm player added ten of his 18 points at the start of the second period when Bamberg, trailing by 20:23, turned in a masterly performance in defense, turned the game around with a run of 20 points without reply, and went in at half-time leading by 44:31. Bamberg also thwarted the home side with its outstanding defense at the start of the third period. Ulm went a further five minutes without scoring, as Bamberg produced a 15:0 run thanks to nine points from Nikos Zisis and six by Ricky Hickman to surge 59:31 ahead and as good as seal the encounter. Bamberg opened up a 31-point gap at one stage before Banchi's team began to conserve its energy and allowed Ulm to put a slightly better complexion on the result. Bamberg's team play was illustrated by 21 direct assists; apart from Rubit, Zisis and Hickman, Leon Radosevic, Maodo Lo and Dorell Wright also got into double figures.
Head Coach Luca Banchi commented: "My players did excellently given this special situation in Piraeus. I was impressed by how they never gave up. We conceded few turnovers and had many assists, which shows me that we want to play as a team despite the pressure. I was a little nervous before the game against Ulm. Now I'm very happy because we tackled the game in the right way. My players were focused, physically strong, on top of things mentally, and good technically."
Brose Bamberg welcomes Anadolu Efes Istanbul, the bottom-placed team in the Euroleague, on Luca Banchi's home debut on Thursday, March 15, 2018. The tip-off is at 8 p.m.