Göttingen
A black weekend for our basketball teams
Brose Bamberg, Medi Bayreuth, s.Oliver Würzburg and BBC Coburg all lost their games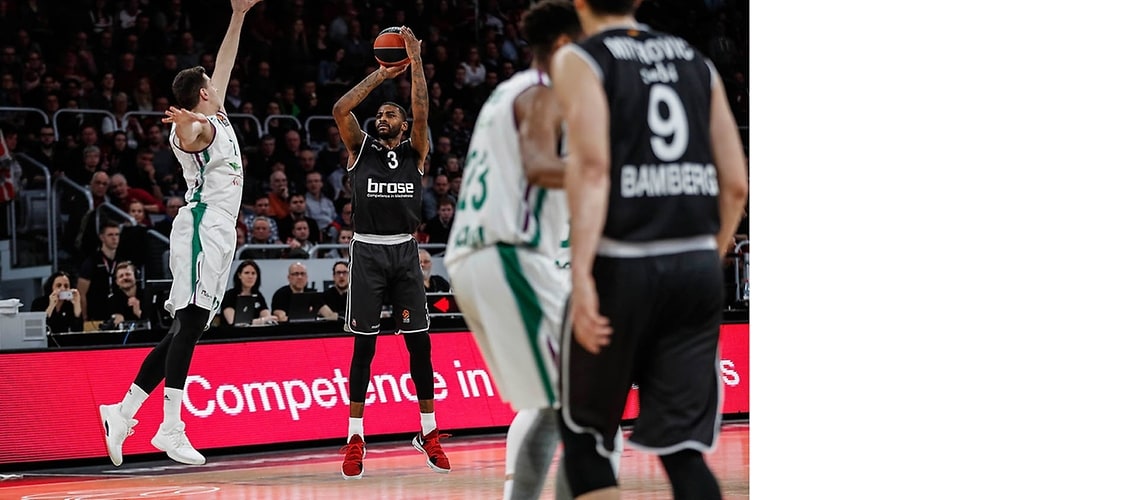 Göttingen, 2018-25-03
What a setback for Brose Bamberg in the battle for a playoff spot. The German champions lost 98:105 on the road at BG Göttingen, who is near the bottom of the table, on the 26th matchday of the easyCredit German Basketball League and have now dropped back to eighth place after their ninth defeat on the road this season. The fact that the team of Head Coach Luca Banchi defeated Unicaja Malaga 93:88 in a great encounter in the Euroleague became a minor matter.
Barely 48 hours after the game against Malaga, Bamberg was too tired and slow in defense. Over the entire 40 minutes, it was unable to find an antidote to its opponents' speedy players, who played Bamberg dizzy with their 15 buckets from downtown. Göttingen also always had an answer to Bamberg's points in the final period – despite a good display in attack, Banchi's team was far too vulnerable in defense. As a result, Göttingen ended up as deserved winners and so inflicted the first defeat in the German league on Luca Banchi.
Medi Bayreuth has been overtaken by EWE Baskets Oldenburg in the table. In front of 3,204 spectators in the Oberfrankenhalle, the Heroes Of Tomorrow lost 98:102 (44:51) to the club from Lower Saxony and are now in fifth spot.
They put up a great fight against last season's runners-up and the crowd was offered an exciting and good encounter. Medi Bayreuth repeatedly clawed its way back after strong spells by the visitors. Unfortunately, the Heroes Of Tomorrow were not able to turn the game around again – all in all, it simply committed too many slips, especially in defense, which the team of Rickey Paulding exploited skillfully to run out narrow, but thoroughly deserved winners.
s.Oliver Würzburg has suffered a setback in the battle for a playoff berth. In the tussle with ratiopharm ulm, which was just below it in the table, the club from Lower Franconia went down 74:91 (33:43) in front of 3,140 spectators in the sold-out s.Oliver Arena on Saturday. "Sure, that's not made things easier. But there are still a lot of games left and it's still very tight. That's why we remain positive and optimistic. Let's see what we can do in Berlin next weekend," said Head Coach Dirk Bauermann afterwards.
BBC Coburg also continued to lack any sort of consistency. Less than a week after the strong performance against Würzburg, the newcomers to the ProB league suffered a bitter setback on the road against the reserve side of FC Bayern Munich on Saturday afternoon, deservedly losing by 95:74 (53:24).
The only ray of hope for Coburg is that they soon have a chance to make amends: The two clubs face each other again in the HUK-Coburg arena on Maundy Thursday (tip-off: 7:30 p.m.). In view of its roller-coaster season in the ProB 2nd German Basketball League, it would not be surprising if BBC Coburg shows itself at its best in front of its home crowd. And it needs to, given its precarious position in the table.