Bamberg
Brose Bamberg strolls to victory against relegated Tübingen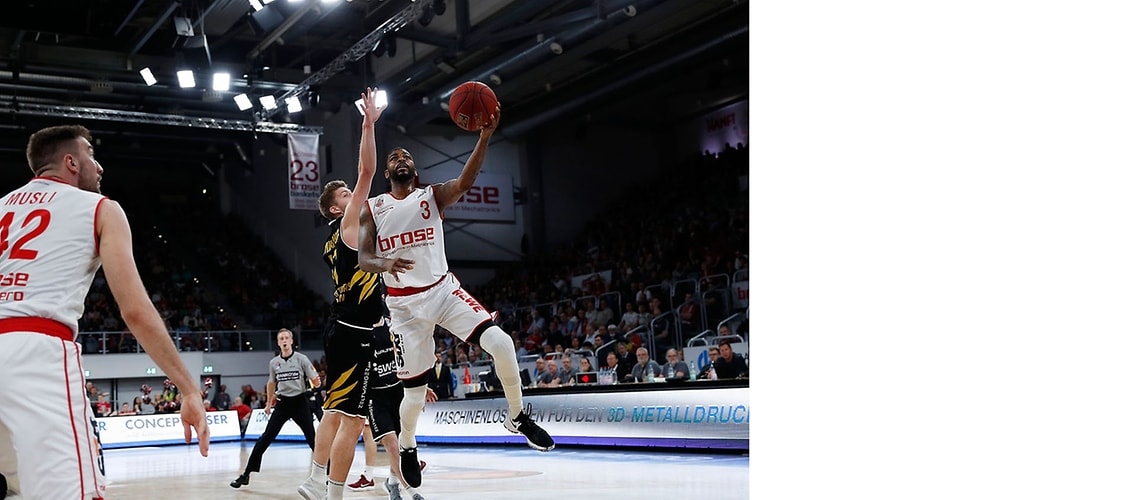 Bamberg, 2018-14-04
German champions Brose Bamberg coasted to a 97:63 win over already relegated Walter Tigers Tübingen to capture their fourth win in a row, but did not make any further ground in the table and so remains in seventh spot. The defending champions are now level on points with fourth-placed Bonn, Bayreuth and Oldenburg, but currently comes off worst in a comparison of the games between all four clubs. However, Bamberg can make a big leap forward in the standings when Oldenburg visits the Brose Arena next week.
Bamberg, who was missing the injured Harris, Hickman, Taylor and Heckmann and the rested Augustine Rubit, was not disconcerted by a Tübingen side that played as if unleashed from the outset. The club from Swabia has faced certain relegation since the previous matchday and, without any pressure, it left the home side trailing by 5:10. When Daniel Hackett came on court midway through the first period, there was a clear boost of energy in Bamberg's play and it went ahead for the first time after seven minutes. In the second quarter, Bamberg managed far better to attack Tübingen's basket and so was able to open up a double-digit gap (38:28), also thanks to the many lay-ups and slam-dunks by Luka Mitrovic and Dejan Musli. The two teams went in at half-time with the score at 50:42.
Tübingen was able to reduce the deficit to 52:46, after which top scorer Dorell Wright and Leon Radosevic and Luka Mitrovic, both of whom buried away under the basket, produced a 18:2 run that as good as decided the encounter in favor of the home side. That broke any resistance by Tübingen, as Bamberg then stepped up a gear in offense up to the end of the third period to make it 81:54. In the final quarter, Head Coach Luca Banchi was able to rest his key players Wright, Mitrovic, Radosevic and Zisis, yet Bamberg still extended the lead with its youngsters Nicolas Wolf, Louis Olinde, Eddy Edigin and European champion Aleksey Nikolic.
Luca Banchi commented: "Just about all of Tübingen's games have been decided in the second half. We were prepared for that. I'm happy that we showed a good attitude and stuck to our game from start to finish. We stepped up a gear in defense in the third period and defended better one-on-one and against shots from outside. That was a key factor. We were calm in offense and moved the ball well, which is why six players got into double digits. All in all, it was a fine display by my team."
As if on cue, the title-holders now face two crucial games next weekend. Bamberg welcomes EWE Baskets Oldenburg on Friday (tip-off: 7 p.m.) and can overtake the club from Lower Saxony with a victory. Banchi's team then visits eighth-placed Frankfurt on Sunday (tip-off: 5:30 p.m.) and must aim to improve its poor record on the road (6 wins and 9 losses). After all, only further victories will enable the defending champs to keep in contention for fourth spot after the regular season.